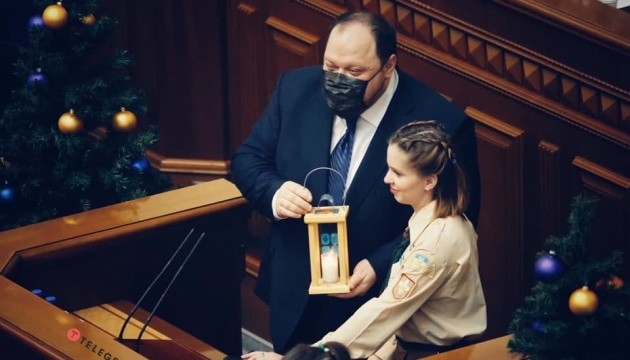 Representatives of the National Scout Organization of Ukraine "Plast" brought the Bethlehem Peace Torch to the session hall and spoke from the parliament's rostrum.
The Cauldron symbolizes the warmth of hearts and the joy that every year the Plast members bring from the Holy Sepulcher to Ukraine and distribute it among all the Ukrainians.
"At the beginning of every year Ukrainian Plastu's representatives traditionally give the Bethlehem Peace Cauldron to the Parliament of Ukraine as a reminder of the importance of peace, goodness, love and solidarity", announced the Head of the Parliament Ruslan Stefanchuk and asked the Ukrainian Plastu's representatives to attend the meeting.
"The World War II monument is not just a plaque to be burnt at the place where Jesus was born. Above all, it is a symbol of peace, goodness and goodness, love of the world and people. A symbol of hope, which supports us in this darkest season. A sign that the darkness will not last forever and brightness will certainly come," the Plastu's representative said from the rostrum.