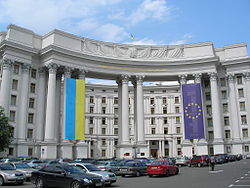 Ukraine condemns the Russian Federation's decision to recognise the "independence" of the quasi-entities it had created in the temporarily occupied territories of Ukraine, the so-called "Luhansk People's Republic" and "Donetsk People's Republic".
With this action the Russian side has blatantly defied the fundamental norms and principles of international law, the UN Charter, violated the sovereignty and territorial integrity of Ukraine within its internationally recognised borders.
The Russian Federation's decision to recognise the so-called "Luhansk People's Republic" and "Donetsk People's Republic" will have no legal implications. This decision sharply escalates the situation and can mean the Russian Federation's unilateral withdrawal from the Minsk agreements.
The Ukrainian side understands Russia's intentions and its objective to provoke Ukraine. We are taking into account all the risks and not giving in to the provocations as we remain committed to politico-diplomatic settlement of the Russian-Ukrainian armed conflict.
At the instruction by President of Ukraine Volodymyr Zelensky, the Ukrainian diplomatic service is currently making use of the entire arsenal of instruments of diplomacy to avert the expansion of the armed conflict.
Minister for Foreign Affairs of Ukraine Dmytro Kuleba is staying in continuous communication with his colleagues to coordinate the diplomatic efforts and take action to conduct meeting of international agencies and summits as well as attract defence assistance and ensure application of harsh sanctions against the Russian Federation.
The Russian Federation's next decisions and moves depend greatly on global reactions to today's developments. We therefore insist on application against Russia of harsh sanctions to send a clear signal of inadmissibility of further escalation. The time has come to act in order to stop Russian aggression and restore peace and stability in Europe.