Negotiators from Russia and Ukraine may resume video talks Monday even as Kyiv accuses Moscow's forces of carrying out atrocities in towns in the north. Russia has dismissed images of executed unarmed civilians as fake.
The government in Kyiv asked the International Criminal Court to gather evidence of alleged war crimes, while some European governments are pushing for further sanctions on Russia in light of the allegations, which center on the town of Bucha on the outskirts of the Ukrainian capital.
President Volodymyr Zelenskiy made a surprise taped appearance at the Grammy Awards, where he implored people to speak out about the war on social media and TV. "Our musicians wear body armor instead of tuxedos," Zelenskiy said. "They sing to the wounded. In hospitals."
(See RSAN on the Bloomberg Terminal for the Russian Sanctions Dashboard.)
Key Developments
Zelenskiy to Speak to S.Korea Lawmakers (4:54 a.m.)
The Ukrainian president will deliver a virtual address to South Korea's parliament on April 11
Japan Condemns Civilian Deaths (2:40 a.m.)
Prime Minister Fumio Kishida said harm caused to civilians "is a violation of international law."
When it comes to further sanctions being advocated by some in Europe, the Japanese premier told reporters he would look at the overall situation and work with the international community to do what needs to be done.
Treasury Curve Inversions Deepen (2:34 a.m.)
U.S. equity futures and Treasuries declined, while Asian shares were mixed Monday, as traders weighed the prospect of aggressive Federal Reserve interest-rate hikes and stiffer sanctions on Russia.
The Treasury yield curve is flashing more warnings that economic growth will slow as the Fed hikes interest rates to tame inflation stoked in part by commodities. Oil fell, extending a drop sparked by a U.S. announcement of an unprecedented release of strategic reserves to fight elevated energy costs.
Putin Allies Dominate Hungarian and Serbian Elections (1:31 a.m.)
The two European leaders most closely allied to Russian President Vladimir Putin before his invasion of Ukraine won decisive election victories on pledges to stay out of the war.
Hungarian Prime Minister Viktor Orban, who has spent 12 years consolidating his grip on power and clashing with the European Union over democratic values, clinched a fourth consecutive term after leading his Fidesz party to a crushing victory over a broad opposition alliance.
More Heavy Fighting Reported in Mariupol (10:55 p.m.)
Heavy fighting continued in Mariupol, the southern port that has been a key target for Russia, with Ukrainian forces still in control of central parts of the city, according to a daily U.K. intelligence assessment.
It said intense, indiscriminate strikes continued to batter the city, where Ukraine blamed Russian forces for killing 300 people in a strike on a theater in March. An International Committee of the Red Cross team seeking to help the safe passage of civilians out of Mariupol failed to reach the city last week.
Russia Seeks Security Council Meeting on Bucha (9:00 p.m.)
Russia has requested a United Nations Security Council meeting Monday to discuss Ukraine's "heinous provocation" in Bucha, Russian First Deputy Head of Mission Dmitry Polyanskiy said on Twitter, without elaborating.
Latvian Gas Supplier Weighs Payment in Rubles (8:30 p.m.)
A Latvian gas supplier partly owned by Gazprom PJSC and Germany's Uniper SE is considering whether it can pay for Russian supplies in rubles as requested by Putin.
Latvijas Gaze, which buys natural gas from Russia under a long-term contract, said the payment procedure doesn't appear to violate sanctions, according to a statement on Sunday. In contrast, neighboring Lithuania has said it ended gas imports from Russia in response to the ruble payment demand.
Polish Leader Calls for EU to Cut Off Russia Trade (7:20 p.m.)
Polish Prime Minister Mateusz Morawiecki called on EU leaders to hold an emergency summit to discuss the events in Bucha, saying the bloc "must sever all trade relations with Russia without delay" and seize Russian assets in western banks as well as those of Russian oligarchs.
Ruble Rebound Won't Last, Blinken Says (7 p.m.)
U.S. Secretary of State Antony Blinken said the ruble's rebound, fueled by "a lot of manipulation" by Russian authorities, is unsustainable.
Backed by severe capital controls imposed by Russia's central bank, the ruble has rebounded from a March 7 low to 85.42 rubles per dollar Friday, almost matching the exchange rate on Feb. 24 when Russia began the war.
EU Should Discuss Russia Oil Ban: German Official (6:00 p.m.)
German Defense Minister Christine Lambrecht said the European Union should discuss a ban on Russian natural gas imports. Asked twice in an ARD television interview whether the response to reported Russian atrocities should include an end to gas shipments, Lambrecht said EU ministers "have to discuss precisely that."
She cautioned that the EU's response is strongest when all members take a coordinated approach to punitive measures. The EU has been divided over cutting off Russian energy imports.
Italian Party Chief Calls for Energy Embargo (5:00 p.m.)
Democratic Party leader Enrico Letta, whose party is part of Italy's governing coalition and leads in voter preference polls, called for a "full oil and gas" embargo against Russia.
Imports from Russia accounted for 38% of Italy's gas consumption last year.
Russia Dismisses 'Staged' War Crimes Accusations (4:16 p.m.)
Kremlin spokesman Dmitry Peskov dismissed Ukrainian claims of war crimes having been committed by Russian troops in towns near Kyiv.
"It's clear to the naked eye that there are a lot of fakes and staged shots," Peskov said by text message when asked to comment on images released by Ukrainian officials of dead civilians in towns recently vacated by Russian soldiers.
Russia's defense ministry denied involvement in any murders of civilians in Bucha, calling the accusations "provocations." It said Russian troops left the town on March 30 and "not a single local resident suffered from any violent action" during their presence there, and accused Ukrainian officials of "staging" photos and videos of dead bodies. https://platform.twitter.com/embed
European Leaders Respond to Graphic Imagery (4:07 p.m.)
Officials across Europe condemned Russia as graphic images emerged of dead civilians in Ukrainian towns recently under Moscow's control.
French President Emmanuel Macron called the images "unbearable," and said the Russian authorities "will have to answer for these crimes." Prime Minister Mario Draghi said Italy "condemns these horrors with absolute firmness."
Earlier, European Council president Charles Michel tweeted that "further EU sanctions & support are on the way," and Foreign Secretary Liz Truss said the U.K. would "fully support any investigations by the International Criminal Court" on possible crimes in Ukraine.
U.S. Stops Short of Genocide Label (3:45 p.m.)
Blinken called images of alleged Russian atrocities against civilians in the Kyiv region a "punch to the gut," but stopped short of labeling them genocide.
The U.S. already has been helping document war crimes since the Russian invasion, he said on CNN. "The most important thing is we can't become numb to this," he said. "This is the reality of what's going on every single day, as long as Russia's brutality against Ukraine continues."
White House Chief of Staff Ron Klain said the U.S. will continue to send weapons and support to Ukraine. While it appears Ukrainian forces are winning the war around Kyiv, the conflict "sadly is far from over" as Russian forces redeploy, Klain said on ABC.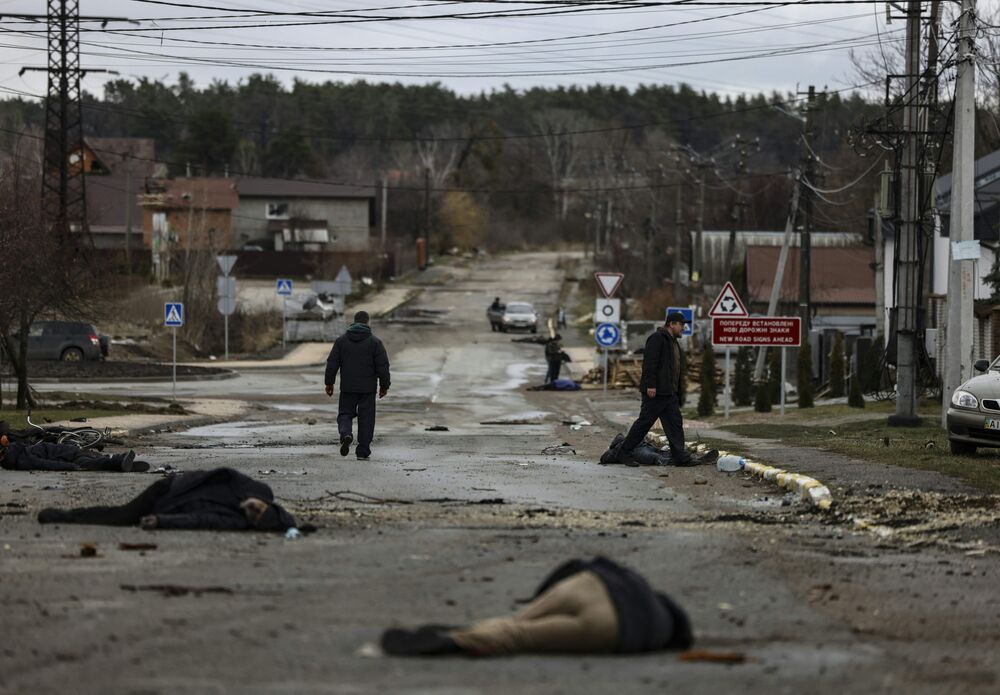 Germany's Scholz Demands Investigation Into Bucha (3:14 p.m.)
Chancellor Olaf Scholz demanded access for organizations like the International Red Cross to document what happened in the Ukrainian town of Bucha, and said the perpetrators and their superiors must be brought to justice.
Scholz reiterated a call for Russia to agree to a cease-fire. "This is a terrible, a senseless and an unjustifiable war that is causing a great deal of suffering and is of no use to anyone," he said in a statement. "It has to stop."
Separately, Foreign Minister Annalena Baerbock said the actions revealed at Bucha "must have an impact on the fifth package of sanctions."
U.N. Estimates 1,417 Civilian Deaths in Ukraine (2:53 p.m.)
The UN High Commissioner for Human Rights estimated civilian deaths in Ukraine at 1,417 through April 2, with another 2,038 injured. The actual figures are likely to be considerably higher, the UNHCR said.
Most of the casualties were caused by the use of explosive weapons with a wide impact area, including shelling from heavy artillery and multiple launch rocket systems, and missile and air strikes, the agency said.