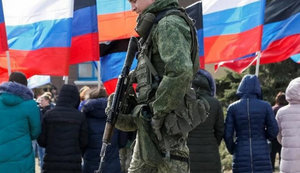 The Russian military is preparing a series of "referendums" to "legalize" the occupation administrations in the temporarily occupied settlements of Kherson, Zaporizhia and Mykolaiv regions.
Bulletins, forms, brochures, posters, and booklets are printed in the occupied territory of the Kherson region for voting in the "referendum" on the creation of another pseudo-republic "People's Republic of China" and recognition of the occupying power (Gorky Street, 5a).
Local residents are convinced that there will be no real voting, except for demonstration polling stations organized as a "picture" for the Russian media. "Voting" will be made with the help of passport data collected during the receipt of "humanitarian aid". In order to receive food rations, residents had to fill out questionnaires with personal information, "the statement reads.
A "referendum" on the election of the mayor and administrative accession to the occupied Crimea is also being prepared in the town of Snihurivka (Mykolaiv region). Residents are urged to come to the polling station at the appointed time. The event is organized by pro-Russian local council chairman Tetyana Mezina and former chairman Oleksandr Larchenko.
According to the Main Intelligence Directorate, a census of the retirement age has been launched in occupied Snihurivka, Zaporizhia Region. The Russians are announcing the establishment of a Russian administration by September 1, the opening of a Russian post office, the launch of mobile communications and Internet services from Russian providers, and the introduction of Russian rubles. There is information about the beginning of registration of the Russian passports, including – foreign.