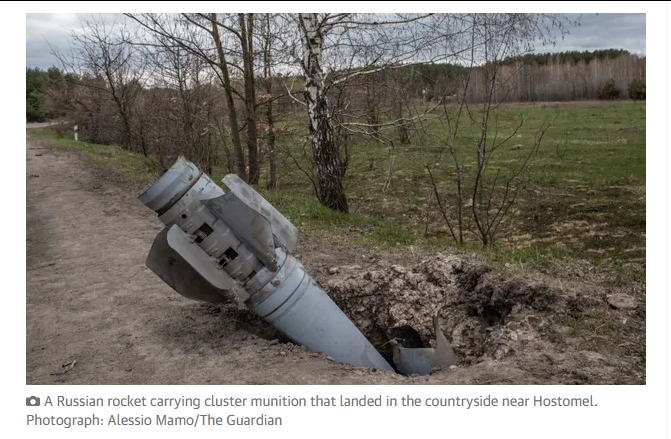 Russian troops have used a number of weapons widely banned across the world, which have killed hundreds of civilians in the Ukrainian region of Kyiv, according to research by the Guardian.
Evidence collected during a visit to Bucha, Hostomel and Borodianka, where Russian occupiers have been accused of atrocities against residents, showed that Russian troops had used cluster munitions, cluster bombs and extremely powerful unguided bombs in populated areas, which have destroyed at least eight civilian buildings.
Bellingcat, a nonprofit online journalism collective dedicated to war crime investigations, which has reviewed some of the pictures collected by the Guardian, confirmed the presence of tail fins of RBK-500 cluster bombs with PTAB-1M submunitions and cluster rocket, launched by BM-30 Smerch.
Russia has repeatedly denied targeting civilians and has said Ukrainian and western allegations of war crimes are concocted.
However, Russia's withdrawal from the areas of the Kyiv region that it occupied until early April has revealed signs of cluster munitions on the wreckage of cars, streets, civilian buildings and dead bodies, too. Cluster munitions, banned by most of the world under a 2008 treaty called the Convention on Cluster Munitions, were unleashed in areas where there were no military personnel and no military infrastructure.