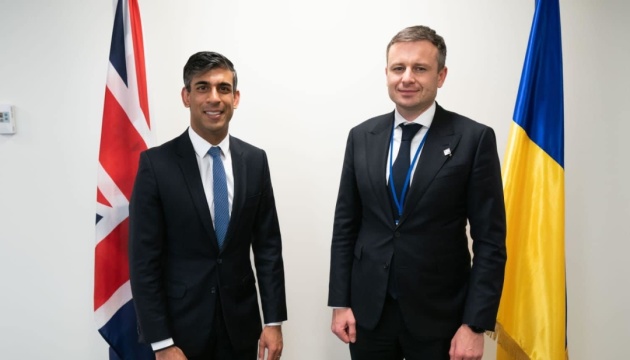 The United Kingdom will provide $500 million in loan guarantees to Ukraine.
The relevant statement was made by Ukrainian Finance Minister Sergii Marchenko on Facebook, an Ukrinform correspondent reports.
"The United Kingdom is an example for the entire civilized world. Their support is always uncompromising and very timely. I personally thanked to Chancellor of the Exchequer Rishi Sunak for all the efforts and support for Ukraine and their decision to provide $500 million in loan guarantees to Ukraine in order to mitigate the economic effects of Russian crimes," Marchenko wrote.
In his words, Rishi Sunak positively responded to the earlier call on partner countries to donate a portion of resources for the Ukrainian budget, which would allow the Ukrainian government to secure all social expenditures and social programs.
According to Marchenko, Rishi Sunak also confirmed that the United Kingdom is ready to join the efforts to promote the involvement of other countries and financial organizations in two new mechanisms of providing financial assistance to Ukraine, i.e. the World Bank Trust Fund and the IMF's special donor account for Ukraine.
A reminder that, on May 5, 2022, the European Union will announce the launch of the Ukraine Solidarity Trust Fund.
Photo: Sergii Marchenko, Facebook
mk
---
Source: Minister Marchenko: UK to provide $500M in loan guarantees to Ukraine