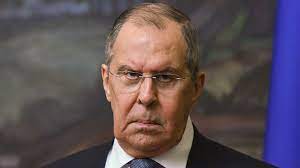 Russian Foreign Minister Sergey Lavrov said a nuclear war must never be launched as there could be "no winners," and he urged countries to adhere to this in an interview with the Dubai-headquartered news outlet Al Arabiya Friday.
Lavrov added that Russia had "been champions of making pledges by all countries never to start a nuclear war."
When asked if the Russian army wants full control of Donbas and southern Ukraine to provide a land corridor to Crimea, Lavrov said, "the military means to achieve (Russia's) goals is not for me to discuss" and said he deferred from discussion on "speculation."
Lavrov also did not confirm, when asked, whether operations in the Donbas would end by May 9, Russia's annual Victory Day, which some analysts and US officials have suggested could be a target date for Russian President Vladimir Putin to declare a victory, instead saying: "They will be completed when the goals I just described to you have been implemented, have been achieved."
Lavrov also downplayed the pressure of sanctions from Western governments on Russia.
"They don't know history. Russia always had sanctions. This latest outrage and the wave of sanctions have shown the real face of the West … to believe this it will make Russia cry uncle and to beg for being pardoned … they don't know anything about foreign policy of Russia or how to deal with Russia," he said.