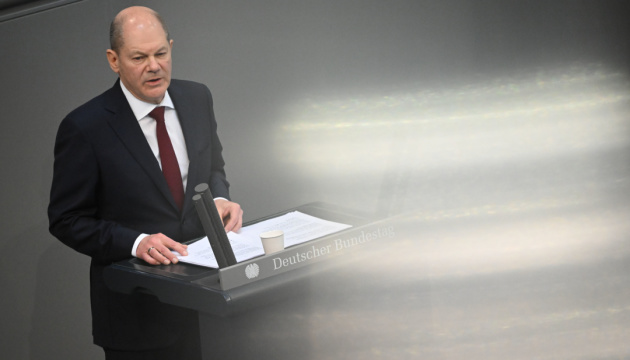 Putin's brutal aggression is directed not only at Ukraine, but it also contradicts the idea of peaceful cooperation, destroys Russia and creates a "new reality" in Europe and the world.
German Chancellor Olaf Scholz said this at a forum in Hamburg, according to an Ukrinform correspondent.
"Putin's hatred of a free Ukraine is greater than his interest in the economic and social development of his own country. His imperialist and revanchist ideology of Russian power and greatness means more to him than the well-being of his own people. Thus, Putin's brutal aggression is directed not only at Ukraine, where the Russian army is inflicting incredible suffering and destruction, but it is also directed against any economic mind. This contradicts the idea of peaceful cooperation for the benefit of all and the interests of the Russian people. In this way, President Putin has created a radically new reality in Europe and around the world," Scholz said.
He stressed that in this new reality one must be able to act and to establish oneself in it in the future.
Scholz reiterated his thesis that Russia should not win the war of aggression against Ukraine, because it is about the future of any rules-based world order.
Therefore, he stressed, Germany, together with its allies and partners, provides all possible support to Ukraine, including the supply of weapons necessary for its effective defense.
In addition, the West has imposed tough sanctions and is steadily tightening them, and the Russian economy, according to the chancellor, has already suffered badly, and the lack of spare parts, semiconductors and other high-tech components reduces Russia's ability to wage war effectively.
"At the same time, we guarantee that Ukraine receives comprehensive financial and humanitarian support. Within the G7, together with international financial organizations, we are making a significant contribution to the mobilization of $50 billion," Scholz said.
In this context, he mentioned the strategic partnership between Hamburg and Kyiv, which was agreed upon by the First Mayor of Hamburg Peter Tschentscher and Kyiv Mayor Vitali Klitschko. Such a partnership provides the necessary assistance in difficult times and creates prospects for the recovery of infrastructure and the economy in the future.
"Together with all our friends and allies, we strongly oppose revanchist, imperial and expansive ideologies – today, tomorrow and in the future. By helping Ukraine defend its democracy and freedom, we are also defending our democracy and our freedom," Scholz said.
---
Source: Scholz: By helping Ukraine, we are also defending our democracy and our freedom