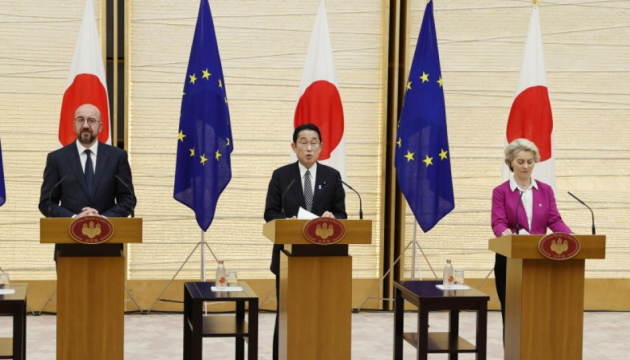 Japanese Prime Minister Fumio Kishida and his EU counterparts – European Council President Charles Michel and European Commission President Ursula von der Leyen – have discussed Russian aggression against Ukraine.
That's according to Kyodo News, Ukrinform reports.
Kishida said Russia's invasion is "absolutely impermissible" as it shakes the "foundation of international order not just covering Europe but also Asia."
Speaking at a joint press conference in Tokyo on Thursday, the prime minister added that
Kishida has also warned of the implications of the Ukrainian crisis for regions beyond Europe and stressed the need to never allow the use of force to alter the status quo, at a time when the rise of an assertive China is heightening regional concerns.
Michel said Japan and the European Union have a "deep and dynamic relationship united by the fundamental values of democracy and rule of law," and called for strengthening the partnership.
"Russia's war against Ukraine has shown that deeper cooperation is not a luxury, it's a vital necessity," he added.
Von der Leyen called Russia "the most direct threat to the world order."
---