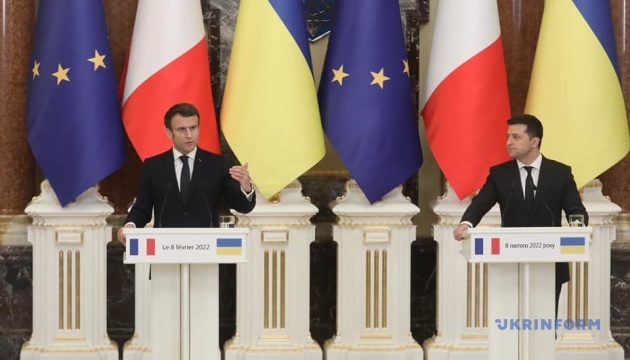 French President Emmanuel Macron has promised Ukrainian President Volodymyr Zelensky that arms supplies from France will increase in the days and weeks to come.
According to the Elysee Palace, Macron said this in a phone call with Zelensky on Tuesday, May 17, Ukrinform reports.
"He [Macron] confirmed that arms deliveries by France will continue and increase in intensity in the days and weeks to come, as will the delivery of humanitarian equipment," the statement said.
Macron also reaffirmed his full determination to respond to all requests for support expressed by Ukraine, including requests for defense equipment, fuel, humanitarian aid, economic and financial support, and in the fight against impunity.
Macron asked Zelensky about the situation on the ground, in particular in Mariupol, as well as about evacuations from the Azovstal steel mill.
Both leaders also discussed food security issues and possible ways to allow exports of Ukrainian grains, which a large part of the world depends on for its food.
"The presidents also discussed the security guarantees that France could provide to Ukraine within the framework of an international agreement in order to ensure respect for the country's sovereignty and territorial integrity," the statement said.
President Macron also confirmed to President Zelensky that Ukraine's application for membership of the European Union will be examined during a European Council session in June, based on the "opinion that the European Commission would have given, and in the spirit expressed at the Versailles summit by all the member states who declared that Ukraine was part of the European family."
"On this occasion, the President returned to his speech to the European Parliament in Strasbourg on May 9 and his proposal for a 'European political community,' which would in particular make it possible to support the candidate countries in the framework of cooperation that is useful for all," the statement said.
---
Source: Macron tells Zelensky arms supplies from France will increase in days and weeks to come