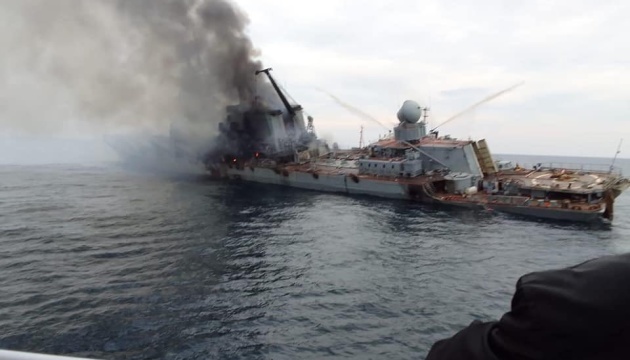 Russian forces have secretly removed from the sunken Black Sea fleet flagship Moskva the remaining bodies and classified documents.
That's according to the Ukrainian intelligence agency, Ukrinform reports with reference RFE/RL's Crimea. Realities.
Vadym Skibitskyi, a spokesman for Ukraine Defense Ministry's Main Intelligence Directorate, said that Russia had been running a special operation on the sunken cruiser for at least two weeks. To this end, five to seven vessels were involved.
"They retrieved the bodies, removed all the equipment that was classified, and cleansed this cruiser – they took what wasn't supposed to fall into the hands of a third country," Skibitsky said, adding that this was a secret operation as Russian military and authorities never publicly announce it.
The spokesman also confirmed to the outlet that the cruiser sank as it was being towed to the temporarily occupied Sevastopol.
As Ukrinform reported, on April 14, the Moskva missile cruiser, the flagship of the Russian Black Sea Fleet, sank. The General Staff of the Armed Forces of Ukraine stated that the ship was hit by two Ukrainian-made Neptune missiles. Russia denied this fact, but the Pentagon later confirmed the report provided by the Ukrainian side.
---
Source: Russia retrieves bodies, classified documents from sunken Moskva cruiser - intelligence