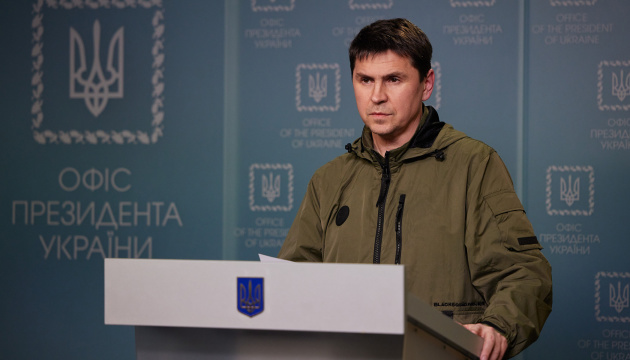 The negotiation process between Ukraine and Russia in the political and diplomatic areas has currently been suspended, but it is working in the humanitarian area.
Mykhailo Podoliak, an adviser to the head of the Ukrainian President's Office, said this in an interview with LB.ua, Ukrinform reports.
"The negotiation process has been suspended today in the political and diplomatic part. It is working in the humanitarian part because there is an exchange of prisoners, there are humanitarian corridors, attempts to evacuate our people. Why has the political and diplomatic part been suspended? Because negotiations are a matter of communication as to what is happening in the real world, not only on the battlefield, but in general: sanctions, reputation, partners. Russia is looking at all this inadequately. This is a phenomenon that will also be included in textbooks," Podoliak said.
According to him, Russia now lives in the self-created reality and therefore completely inadequately perceives what is happening in the world.
"They really think that they are 'liberating Ukrainian cities, reducing them to ashes and killing thousands of people.' They sincerely believe that this is the right thing to do. So when they come to the negotiation process, they certainly cannot communicate with adequate people. Because negotiations is when you give your position, arguments, when you justify your position. And if someone sitting in front of you lives in illusion, they just can't understand your words. And you can't explain to someone who is a little deranged the objective consequences of their actions," Podoliak said.
The last face-to-face talks between the Ukrainian and Russian delegations last took place on March 29 in Istanbul. The Ukrainian delegation then made several proposals to end the war, including the signing of an international agreement on security guarantees for Ukraine.
---
Source: Ukraine in talks with Russia only on humanitarian issues - Podoliak