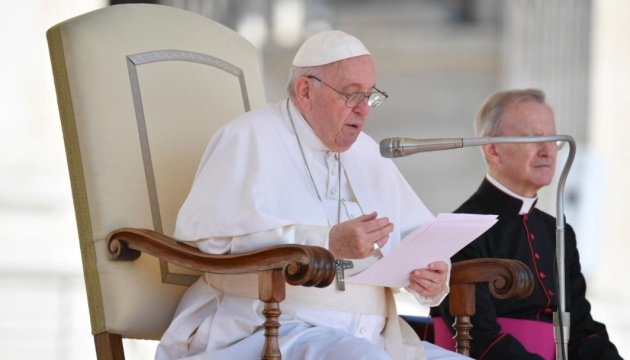 Pope Francis has appealed for an end to the blockage of grain exports from Ukraine.
At the conclusion of the Pope's weekly General Audience in the Vatican, the Holy Father again turned to the ongoing war in Ukraine, Vatican News reports.
"Of great concern," the Pope expressed, "is the blocking of grain exports from Ukraine, on which the lives of millions of people, especially the poorest countries, depend."
"I earnestly appeal for every effort to be made to resolve this issue and to guarantee the universal human right to food."
"Please do not use wheat, a staple food, as a weapon of war!"
The Holy Father decried these shortages caused and worsening since Russia's invasion of Ukraine.
Leaders of EU member states have condemned Russia's efforts to provoke a global food crisis and called on the Kremlin to immediately cease the blockade of Ukrainian shipping routes, which has been thwarting Ukrainian grain exports to international markets.
Earlier, President Zelensky stated that the invaders had stolen at least half a million tonnes of grain in the temporarily occupied territory of Ukraine and were looking for ways to illegally sell it.
Due to the blockade of Ukrainian seaports, 7 million tonnes of wheat, 14 million tonnes of corn grain, 3 million tonnes of sunflower oil, and 3 million tonnes of sunflower meal are unable to reach the global market. This has already led to a record rise in global market prices and will inevitably result in a global food crisis and rising inflation.
---
Source: Pope Francis calls for not using wheat as weapon of war