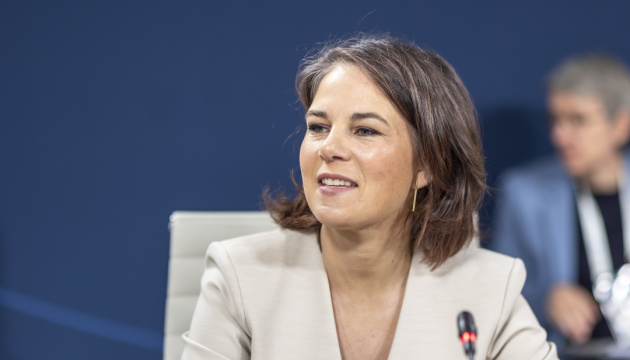 German Foreign Minister Annalena Baerbock has said that Russia must not be allowed to win the war. Thus, Ukraine needs help.
According to Ukrinform's own correspondent, the first such statement by a German government official was made by Baerbock at the Markus Lanz talk show on ZDF.
"Of course, Russia must not win this war. It must lose strategically as it commits violations not only as regards Ukraine, but also violates international law. They want to destroy the peace in Ukraine. That's why Ukraine must not lose under any circumstances – that means Ukraine must win," Baerbock said, answering a direct question of whether Ukraine should win the war.
The German Foreign Minister stressed that Russia is waging a war to destroy Ukraine, and therefore it is very important to continue providing assistance to Ukraine in its self-defense.
"We cannot and do not want to leave Ukraine to its own devices because then Putin will win," Baerbock said.
As reported on Monday, Federal Chancellor Olaf Scholz during his speech in the Bundestag said "Putin must not and will not win this war."
Earlier, the German opposition, media, and Ukraine's Ambassador to Germany, Andrii Melnyk, repeatedly criticized the country's coalition government for avoiding and refusing to state clearly that Ukraine must win the war against Russia.
"It is very unfortunate that neither the German government nor the chancellor personally has the courage to speak about Ukraine's victory and act accordingly, supporting Ukraine with modern heavy weapons," Ukrainian Ambassador to Germany Andrii Melnyk said on Wednesday.
As Ukrinform reported, on Thursday at the GLOBSEC 2022 forum in Bratislava, European Commission President Ursula von der Leyen said that Ukraine must win the war against Russian aggression, while Putin must suffer a severe strategic defeat in his invasion of Ukraine.
---
Source: Russia waging war of annihilation so it's important to keep helping Ukraine - German FM