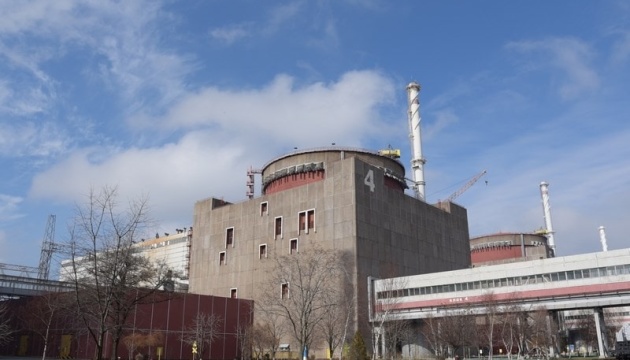 The Ukrainian Foreign Affairs Ministry strongly condemns the seizure of Zaporizhzhia Nuclear Power Plant (NPP) by Russian troops and the fact that the representatives of Russian energy companies are staying there.
The relevant statement was made by the Ukrainian Foreign Affairs Ministry, an Ukrinform correspondent reports.
The actions of the Russian nuclear terrorists at Zaporizhzhia NPP and in the temporarily occupied city of Enerhodar, Russia's constant missile attacks on the Ukrainian territory, namely in the direction of this and other nuclear power plants, pose an unprecedented threat to nuclear security in Ukraine, Europe and the whole world. The ministry urged Russia to strictly abide by the laws and customs of war, including those related to nuclear facilities.
"There is no justification for the insidious obstacles put by the aggressor country to the joint efforts of Ukraine and the international community to deoccupy the station and restore its sustainable operation under the IAEA safeguards," the ministry stressed.
The Ukrainian Foreign Affairs Ministry called on IAEA Director General Rafael Grossi and UN Secretary-General Antonio Guterres to redouble their efforts to find ways to liberate Zaporizhzhia NPP from Russian invaders as soon as possible, return it under the full control of Ukraine, restore the plant`s security and elaborate effective modalities to send international experts' mission to Zaporizhzhia NPP under the auspices of the IAEA/UN.
"In this regard, we count on the active stance of the partner states as part of the forthcoming meetings of the IAEA Board of Governors and IAEA General Conference," the ministry noted.
The Ukrainian Foreign Affairs Ministry also insists that Russia should fully implement the resolution of the IAEA Board of Governors of March 3, 2022 'The safety, security and safeguards implications of the situation in Ukraine'. According to this resolution, Russia must immediately cease all actions against nuclear facilities in Ukraine and return control over all seized nuclear facilities to the Ukrainian side. The aggressor's cynical attempts to force Ukraine to buy electricity produced by its own nuclear power plant must be stopped immediately.
A reminder that Russian troops seized Zaporizhzhia NPP on March 4, 2022. Currently, about 500 Russian soldiers, heavy weapons, tanks and explosives are deployed within the territory of Zaporizhzhia NPP.
mk
---
Source: Ukraine demands that Russian invaders leave Zaporizhzhia NPP