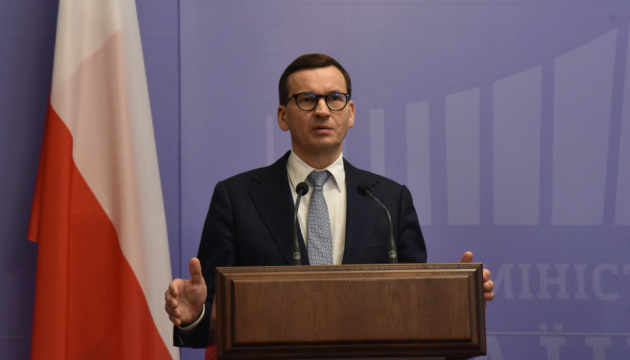 The Three Seas Initiative is impossible without the participation of free and sovereign Ukraine.
"This war made it clear to us that the Three Seas Initiative is impossible without Ukraine. There will be no Three Seas without free and independent Ukraine," Prime Minister of Poland Mateusz Morawiecki said at the opening of a two-day Three Seas Initiative Local Government Congress in Lublin on June 6, an Ukrinform correspondent reported.
In this regard, Morawiecki pointed out: if Poland is called the locomotive of economic growth in the EU, the more such a locomotive can be the whole of Central Europe, along with the heroic Ukraine which will soon "begin to rise from the ruins."
The Prime Minister of the Republic of Poland noted that he had discussed the practical dimension of the Three Seas – the strengthening of Central and Eastern Europe – with President of Ukraine Volodymyr Zelensky in Kyiv on June 1.
"We talked about what will happen after Ukraine's victory because Ukraine must win this war," Morawiecki stressed.
According to him, the talks with the Ukrainian side in Kyiv concerned, in particular, energy links with Ukraine. The Prime Minister of the Republic of Poland stressed that Ukraine "has excellent opportunities to supply cheap energy and could benefit from the supplies to Poland, Romania, Slovakia, as well as other countries bordering Ukraine, other countries on the eastern flank of the EU."
Morawiecki also said that the talks on infrastructure links had been held in Kyiv.
"We create a North-South axis, but from this axis, and I want to say this out loud now, there will be branches and links with Ukraine so that it can use its economic resources, and not only natural resources, but also rich economic resources in the broadest sense of the word, so that it can be rebuilt quickly," Poland's Prime Minister stressed.
He noted that those links would create good growth prospects for Polish entrepreneurs from the Lublin and Subcarpathian Voivodeships which could become a "hub for the economic reconstruction of the whole of Ukraine."
At the same time, Morawiecki noted that much had been talked about economic, cultural, technological and other cooperation between the countries of the Three Seas in recent years.
"But today we must add another component to this: Ukraine is fighting for its sovereignty, but it is also fighting, in a broad sense, for the sovereignty of the Three Seas countries," Poland's Prime Minister said.
The Three Seas Initiative, launched in 2015 by President of Poland Andrzej Duda and President of Croatia Kolinda Grabar- Kitarović, is a partnership bloc of the Baltic, the Black, and the Adriatic Seas seeking to deepen the integration of Central and Eastern Europe. The project brings together 12 Central and Eastern European countries that are members of the EU: Visegrad Group countries, the Baltic states, Austria, Croatia, Romania, Slovenia, and Bulgaria. The main focus of the Initiative is on the development of infrastructure projects.
ol
---
Source: Morawiecki: Three Seas Initiative impossible without free and sovereign Ukraine