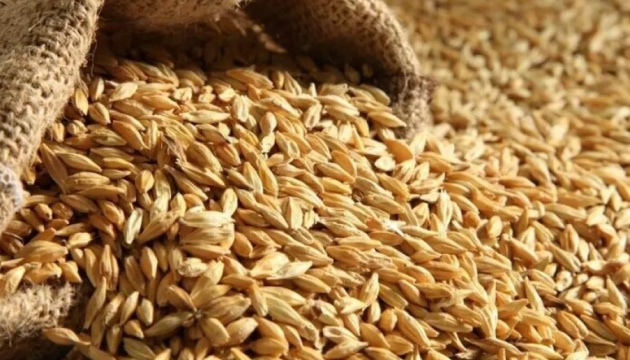 Against the background of the illegal expropriation by Russian invasion forces of Ukrainian wheat, vegetables, other food products and agricultural machinery from Kherson region and other regions of Ukraine, the "Appeal of the Supreme Council of the Ukrainian Emigration" which is kept in the Ukrainian Intelligence Service archive has been brought to light.
That's according to the SZRU intelligence agency's press service, Ukrinform reports.
"It is yet another confirmation that Muscovy's policy towards Ukraine (both today and in the past) has always been the same – aggressive, looting, and barbaric," the report reads.
Here is an extract from the "Appeal" to the world nations to save Ukraine, published in Paris in June 1930:
"…The Moscow government thinks imposing its regime isn't enough so it is ruining economically the nation which had the misfortune to fall under its rule… The system of forcible sale of grain, expropriations… are bankrupting Ukraine.
… He (Ukrainian farmer) is deprived of cattle, stock, and all property acquired through hard work over the years. These measures, seen by the Communists as a triumph of their doctrine, are aimed at ruining peasantry and thus defeating Ukraine's active resistance against Moscow occupiers.… The looting is accompanied by unprecedented terror and thousands of arrests, mass deportations to Siberia and the Solovki, and death sentences. The most determined of the peasants seriously resist the Communists, while others, being at a loss, try to flee to Poland and Romania…
On behalf of the huge number of Ukrainian emigrants settled in Europe, we appeal to the civilized world, asking not to support unfair Soviet trade, not to buy Ukrainian grain doused in blood of our peasantry, not to finance the occupying Soviet power in Ukraine…
Do not buy grain stolen from Ukraine. Stop trading with the Soviets. By trading with the Soviets, you support the Russian occupation army in Ukraine, you support destruction, terror, famine, you help spread criminal propaganda around the world and promote political attacks against yourselves, against world civilization."
These appeals, almost a century old, are in line with current official statements, including by the Ministry of Foreign Affairs of Ukraine, which warned grain importers that they should not buy grain from Russia.
"The Russian occupiers are stealing Ukrainian grain and either consuming it themselves or attempting to sell it on international markets. The plunder of food resources from the territory of an independent sovereign state is one of the aspects of looting," the statement reads.
The Ministry of Foreign Affairs of Ukraine has warned consumer countries that grain consignments exported by Russia could partially or completely contain grain stolen from Ukraine.
"We believe that any country that knowingly purchases stolen grain is considered complicit in the crime," reads the statement.
---
Source: "Don't buy grain stolen from Ukraine" – Intelligence releases archived appeal to the world dated 1930