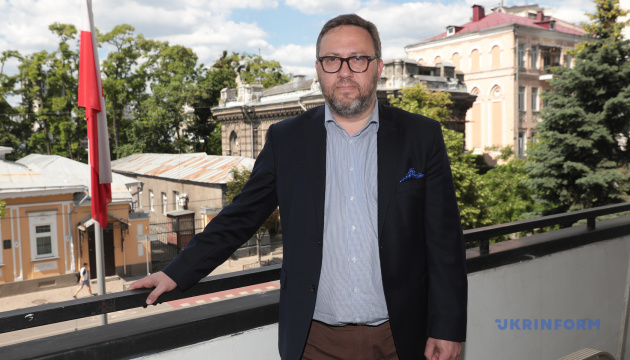 Ukraine's Armed Forces demonstrate a high level of military competencies and courage in the war with Russia, but a number of reforms in various areas are still needed to gain NATO membership.
Polish Ambassador to Ukraine Bartosz Cichocki said this in an interview with Ukrinform. He was asked whether the way the Ukrainian Armed Forces are currently fighting brings Ukraine closer to NATO.
"It seems to me that everyone is impressed not only by their courage, but also by their competencies. After the battle for the Kyiv and Kharkiv regions and what is happening in the east, there are no questions regarding the level of training of your officers and generals and the courage of the soldiers. But NATO membership is not just military competencies," he said.
He noted that to become a member of the military alliance, it is necessary to achieve the effectiveness of the judiciary, carry out democratic reforms of the Ukrainian Armed Forces and the Security Service of Ukraine and ensure the principle of equal competition in the economy.
The ambassador recalled that talks about all this had been going on for years, but they did not turn into concrete deeds.
"We all understand that Ukraine has taken powerful steps forward after the Orange Revolution, after the Euromaidan, and since the beginning of President Zelensky's rule. Huge reforms have been carried out – banking and land reforms, and we need to move forward in this direction," the ambassador said.
He added that the process was going in the right direction, but "it is clear that the war is complicating everything."
---
Source: Polish ambassador: NATO membership is not just military competencies of Ukraine's Armed Forces