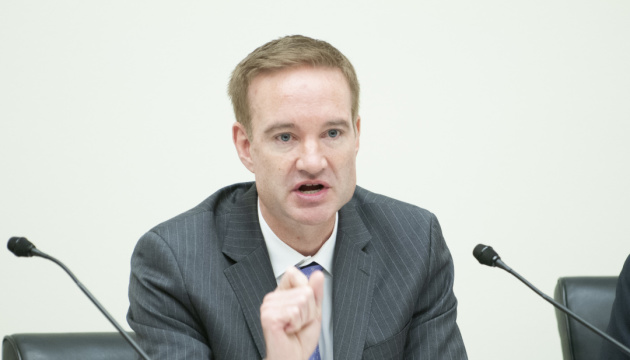 Ambassador Michael R. Carpenter, U.S. Permanent Representative to the Organization for Security and Co-operation in Europe (OSCE), has said that the United States will continue to support residents of the Kherson region and expressed confidence that Ukraine would eventually liberate Kherson, which Russia has now turned into a "laboratory of horrors."
According to an Ukrinform correspondent, Carpenter said this during a meeting of the OSCE Permanent Council in Vienna on Thursday, where the chairman of the Kherson Regional Council, Oleksandr Samoilenko, also delivered a speech.
"The United States will continue to support a sovereign, independent, democratic Ukraine with its territorial integrity intact. Let there be no doubt: Kherson will eventually be liberated, and its people will rebuild their vibrant democratic society," Carpenter said.
He also expressed confidence that those responsible for war crimes and other atrocities in Kherson and all other areas of Ukraine that have suffered under the temporary control of Russia's forces will be held accountable and brought to justice.
"Chairman Samoilenko, the United States stands with the people of Kherson during these dark days, and we will continue to lead the world in providing Ukraine with both the weapons and humanitarian assistance needed to defend against Russia's horrific onslaught, including through our historic Lend Lease Act. We will also continue to rally our allies and partners to provide the same," Carpenter said.
He added that only liberation from this tyrannical regime will bring peace and freedom to brave Ukrainian patriots who are fighting a struggle for their very survival. The diplomat said that the international community would never recognize Russia's illegitimate attempts to hold a "referendum" or annex part of the Kherson region, which has become the "Kremlin's laboratory of horrors."
Carpenter also noted that Kherson is an economically vital region for Ukraine. If the Kremlin is allowed to achieve its goals in Kherson, "it will not only have a launchpad for further attacks on Ukraine's interior and its Black Sea littoral, but it will be in a position to slowly strangle Ukraine's economy," he said.
"Control over Kherson helps Russia prevent Ukraine from exporting its grain and directly exacerbates the global food security crisis," Carpenter added.
Samoilenko on Thursday addressed the OSCE Permanent Council and informed the participating countries about the tactics of terror used by the Russian occupiers against residents of the Kherson region.
---