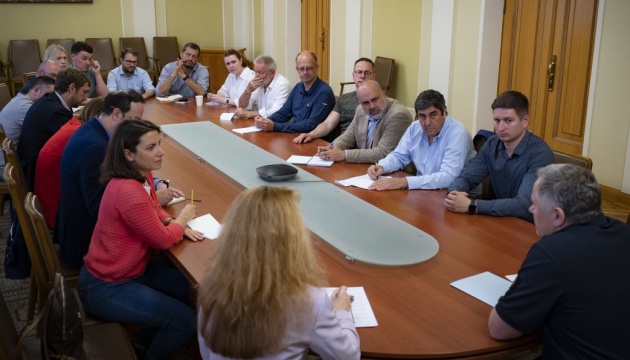 Ukraine expects a decision on granting EU candidate status to be adopted in June.
Deputy Head of the President's Office Ihor Zhovkva said this at a meeting with a delegation of the United for Ukraine informal international network consisting of representatives of the parliaments of Lithuania, Germany, Italy, Portugal, Sweden, Spain, the press service of the President's Office informs.
In particular, the meeting participants discussed the issue of granting Ukraine the status of a candidate for EU membership at the European Council meeting on June 23-24.
"I'm happy that all the MPs present here, even from Germany, support granting Ukraine the status of a candidate for EU membership in June. The adoption of such a formal decision at the next meeting of the European Council is the key to our country's victory in the war against Russia," Zhovkva said.
He praised the efforts of the network, which now unites more than 280 former and incumbent members of parliaments and high-ranking officials from more than 30 countries, to promote the Ukrainian agenda both within the authorities and societies of their countries and at international platforms.
The Deputy Head of the President's Office briefed European politicians on the security situation in Ukraine, expressing hope that foreign parliamentarians will continue to make every effort to urge their countries to promptly send weapons needed by Ukraine, as well as to impose sanctions against Russia.
In addition, Zhovkva commended the efforts of the United for Ukraine network to rebuild Ukraine, as well as its proactive role in bringing the Russian military to justice for crimes committed in Ukraine. In this context, he called on the parliaments of the participating states to recognize the crimes of Russia in Ukraine as genocide against the Ukrainian people, and Russia as a state sponsor of terrorism.
"This is not only a matter of historical justice, but also an important legal basis for the activities of the post-war international tribunal," he stressed.
As reported, President Volodymyr Zelensky signed an application for Ukraine's membership in the European Union on February 28, 2022.
A summit of EU leaders was held in Versailles, France, on March 10, focusing on strengthening European defense and reducing dependence on Russian gas, oil and coal. EU leaders united in supporting Ukraine in the war against Russia and acknowledged Kyiv's European aspirations.
During a visit to Kyiv on April 20, European Council President Charles Michel said that the European Commission would announce the first conclusions on Ukraine's candidate status by the end of June, after which the issue would be on the European Council's agenda.
ol
---
Source: President's Office: Granting Ukraine EU candidate status in June key to victory in war