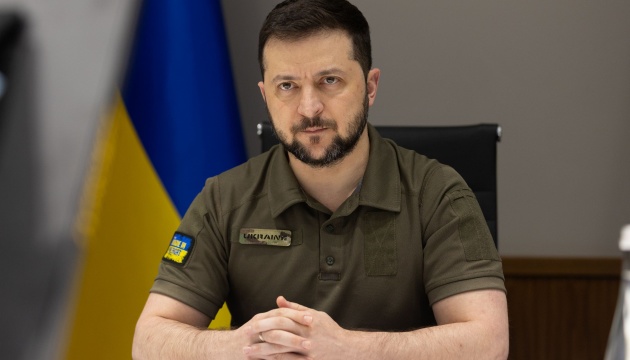 Ukrainian President Volodymyr Zelenskyy said during the IISS Shangri-La Dialogue, Asia's leading defense summit, that Ukraine would be ready to export grain by sea only if a maritime corridor was created of the ships belonging to "civilized countries" as Ukraine has no trust in any proposals coming from Russia.
The statement came as Zelensky was speaking at the Shangri La Dialogue security summit via video conference.
"We spoke with mediators: with the Republic of Turkey, with the United Nations, with the United Kingdom, Canada, many European countries. The format is being discussed today. I believe that, despite Russia's suggestions, we do not trust them. We are ready to talk to the civilized world and therefore support the format of establishing a safe transport corridor, a maritime corridor consisting of our partners' ships, through which we can export grain. If this is not done, if it is not a corridor under the flags of states that can be trusted because they act and work in the field of law, then it's impossible," Zelensky said.
The Ukrainian leader also added that plans to export grain through the Baltic States and Poland are being developed at present.
"We are talking about the formats of railway exports, we are already doing it as we already export more than 2 million tonnes per month, but this is not enough for us because we can export 10 million tonnes per month by sea," said the President.
At the same time, the Ukrainian President stressed that from the first minutes of the full-scale war against Ukraine, Russia blocked Ukrainian ports in the Black Sea using its warships. Since the invasion, the Russian navy has attacked peaceful merchant ships and fired missiles at Ukraine's port infrastructure.
"Today, the Black Sea is the world's most dangerous sea. And this is solely Russia's fault. Although on February 23 this year, on the eve of the war, free and safe navigation was possible in the Black Sea," the President said.
As reported, on February 24, Russia launched an unprovoked full-scale war against Ukraine. As a result of the aggression and the blockade imposed by Russia, more than 20 million tonnes of export grain remain blocked in Ukrainian ports. This poses a threat of global famine as Ukrainian grain makes up half of all supplies under the UN World Food Program.
---
Source: Ukraine could export grain via corridor ensured by civilized countries' ships - Zelensky