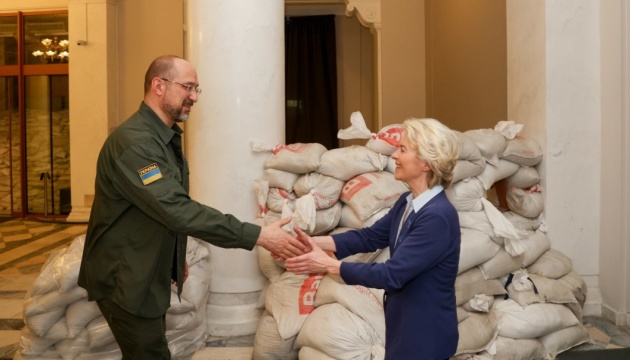 Ukraine hopes that joining the EU's common customs and payment areas will be the next steps on the country's road to European integration.
Ukrainian Prime Minister Denys Shmyhal said this at a meeting with European Commission President Ursula von der Leyen, Ukrinform reports, citing the prime minister's Telegram channel.
"Ukraine is rapidly moving closer to the European Union and hopes that joining the common customs and payment areas of the EU will be the next steps in our European integration. I am grateful to Ursula von der Leyen, President of the European Commission, for this next visit and support of our country," Shmyhal said.
He said that he had discussed with von der Leyen the provision of non-refundable grants for Ukrainian small and medium-sized businesses, a recovery plan and the intention to rebuild Ukraine according to European standards. The prime minister assured her that the state was continuing its reforms.
"Right now, the Ukrainian army is rapidly moving to NATO standards. We are implementing the Green Deal, actively digitizing all public services and hope that in the near future the EU will approve Ukraine's accession to the NCTS joint customs transit regime. We also expect a positive decision on the inclusion of our country in the SEPA single payments area, free roaming zone and, of course, granting EU candidate status," Shmyhal stressed.
All these, he added, are practical steps of Ukraine's integration into the European Union, which will strengthen both sides and help Ukraine defeat the enemy.
Von der Leyen arrived in Kyiv on Saturday to meet with Zelensky and discuss Ukraine's progress towards EU membership.
---
Source: Ukraine hopes joining EU's common customs and payment areas will be next steps of its EU integration - Shmyhal