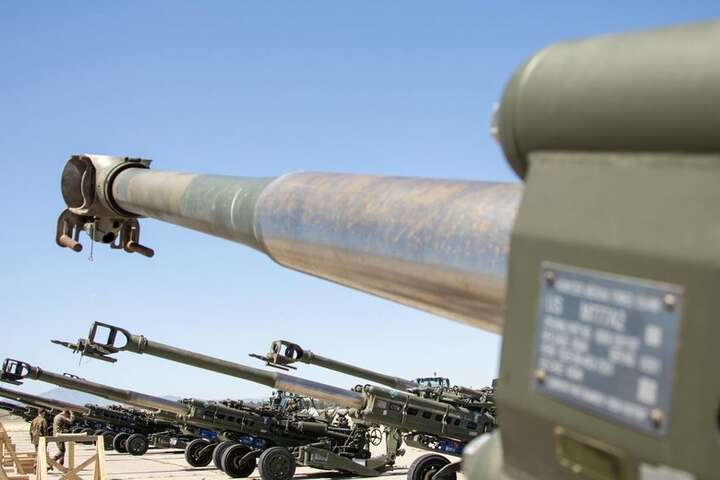 The lack of balance of firepower can war will drag on and the number of casualties. Since it became apparent a few weeks after Russia's war of aggression against Ukraine began that Moscow troops had been stopped near Kiev, in the West, almost everyone believes that Ukraine will eventually win. After Russian armored vehicles suffered a stunning defeat by Ukrainian defenders north of Kiev and Kharkiv during the first few weeks of the war, many experts called the Russian army "incompetent" and suggested that it was unable to defeat the Ukrainian Armed Forces (AFU), whose great bravery and skills were widely welcomed. In late April, Defense Secretary Lloyd Austin visited Kiev and told Zelensky that the West could provide his troops with "the right equipment" and "the right support" because Austin wanted to help Ukraine win and see "Russia weaken." In addition to direct military assistance, the West simultaneously used economic tools designed to prevent Putin from continuing to wage war
In the early days of the war, Biden imposed sanctions that the White House said would be "the most effective, coordinated and large-scale economic restrictions in history." On June 3, the European Union put into effect the sixth tranche of sanctions, which provides for a partial ban on the import of most of Russia's oil and gas. The purpose of these punitive military and economic measures was to weaken or stop Putin's ability to continue his war in Ukraine and arm Kiev to win that war. During the first three months of the war, almost all the leaders of the United States and Ukraine made positive statements, suggesting that Kiev's troops would "drive Russia" out of Ukrainian soil and that Kiev would not accept any negotiated settlement that would cede any territory to Russia. According to the report, Russia's relentless bombing of Ukrainian troops during the first more than 100 days of the war destroyed most of their Soviet-era equipment and depleted their artillery ammunition reserves. As a result, Russian units on the front line have an advantage in artillery armament and a stunning in artillery shells.
Defense Minister of Ukraine Oleksiy Reznikov confirms that more than 100 servicemen of the armed forces of Ukraine are killed every day (according to some sources, their number is approaching 200 per day) and another 500 are injured. Zelensky admits that Russia occupies more than 20% of the territory of Ukraine. While it is clear that no Ukrainian leader will ever want to cede any part of his country to an invading state.
Defense Ministry on arms supplies: Ukraine received a tenth of its needs . Western countries should significantly increase and accelerate military support for Ukraine. The armed forces of Ukraine do not have enough weapons to repel the invaders. "No matter how much effort Ukraine makes, we will not be able to win the war without the help of the West. From what Ukraine stated, From what we need, we received only 10 percent," said Malyar. According to her, Ukrainian soldiers can afford to spend about 6 thousand shells a day, while Russian soldiers use about ten times more.
Ukraine needs powerful offensive weapons, without which the war will drag on and the number of casualties will grow. Ukrainian President Volodymyr Zelensky said this in his address to the participants in the American Jewish Committee Global Forum.
Ukraine needs 1,000 howitzers, 500 tanks, 300 multiple launch rocket systems and 2,000 armored vehicles to achieve heavy weapons parity with the Russian Federation and liberate Ukrainian territories from Russian invaders. The relevant statement was made by Advisor to the Head of the Office of the President of Ukraine Mykhailo Podolyak on Twitter. "Being straightforward – to end the war we need heavy weapons parity: 1,000 howitzers caliber 155 mm; 300 MLRS; 500 tanks; 2,000 armored vehicles; 1,000 drones. Contact Group of Defense Ministers meeting is held in Brussels on June 15. We are waiting for a decision," Podolyak wrote. A reminder that a third meeting of the Ukraine Defense Contact Group headed by U.S. Secretary of Defense Lloyd Austin will take place on June 15, 2022.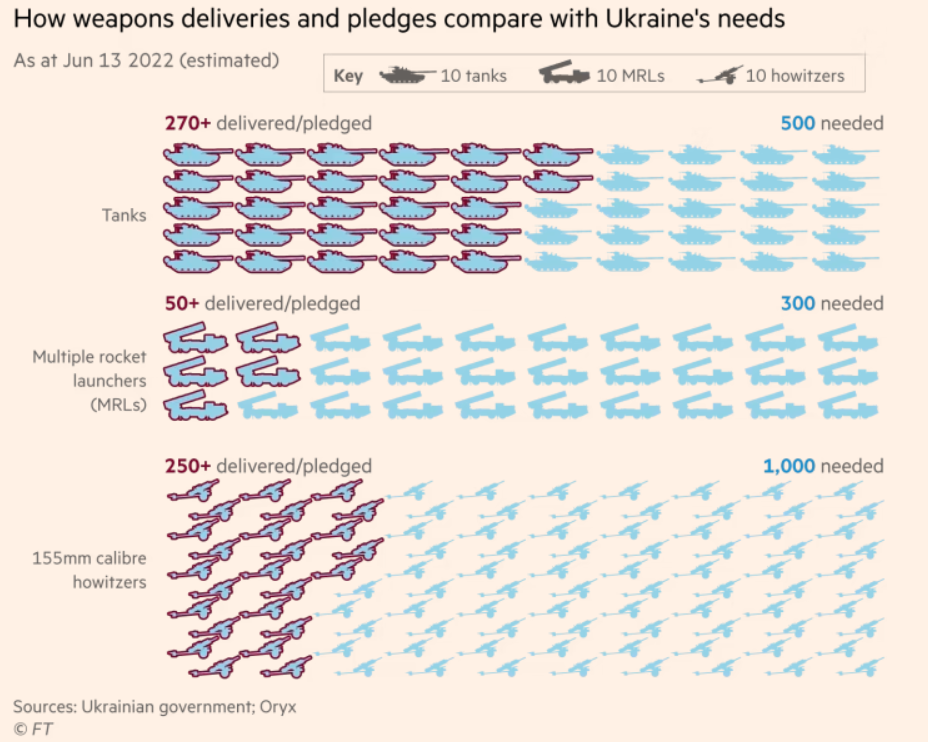 The US expects more announcements of weapons and equipment packages to Ukraine during a key meeting of nearly 50 countries known as the Ukraine Contact Group on Wednesday, according to a senior US defense official. The official would not detail what countries would be announcing new security packages or what those shipments would include but noted that the US works "very closely" with other countries to figure out what Ukraine's armed forces need and then find those systems to send over. The official would also not say whether the US would have a new package to announce, but said US President Biden's administration is already working on the next package.
The Biden administration announced the last weapons package on June 1st, including High Mobility Artillery Rocket System (HiMARS), a system capable of launching a barrage of rockets and missiles that Ukraine had urgently requested for weeks. The $700 million package was the first time the administration had drawn from the new $40 billion aid package for Ukraine, which received bipartisan support in Congress.
Despite all the challenges the Russians have faced — both self-made and a result of Ukraine's counter-attacks — Russia still retains its biggest advantage, the sheer size of its military. But that doesn't mean Russia is guaranteed victory, even if Russian President Vladimir Putin has shown no indication that he is considering scaling back his goals.
This is the ugly, bitter reality of war: Ukraine and its brave people need enough heavy weapons – and the huge amounts of large – caliber artillery ammunition need for howitzers-that would restore the balance between Ukraine's main lack of firepower or war will drag on and the number of casualties will rice.