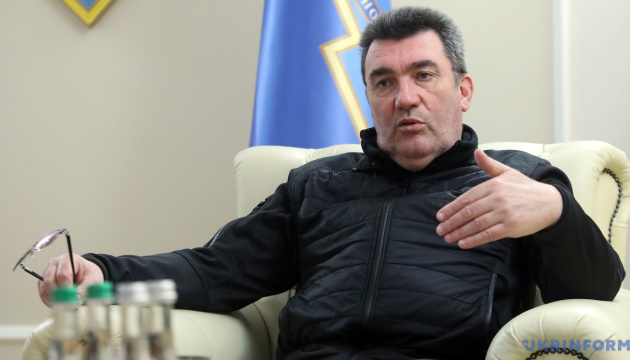 The situation at the front line is challenging at the moment, as the Ukrainian military do not have enough guns and heavy weapons. Meanwhile, Ukraine will soon achieve heavy weapons parity and will be able to launch the counteroffensive.
The relevant statement was made by National Security and Defense Council of Ukraine (NSDC) Secretary Oleksiy Danilov during a nationwide telethon, an Ukrinform correspondent reports.
"What is happening at the front line, the situation is challenging; it is difficult. Our military are equalizing the situation, literally and figuratively, but today there are still not enough guns, heavy weapons to say we have already achieved parity," Danilov told.
Danilov expressed hope that, considering the events taking place in the world, Ukraine will soon be able to achieve such parity, launch the counteroffensive and liberate the Ukrainian cities and villages which have been temporarily seized by the aggressor.
Answering the question why Russian politicians are now openly declaring their intent to destroy Ukraine's statehood, Danilov noted: "These are their dreams, they are well known. I can say they have been attempting to destroy our state for a long time. They do not quite succeed, and so they are entering an extreme stage. All the masks have been thrown off; there is nothing to hide anymore. Even Putin says they are seizing 'their' territories, and they believe the entire territory of our country is 'their' territory. This is no longer a fight for some Luhansk, Donetsk. They openly say that the destruction of Ukraine, the extermination of our nation is their number-one objective".
A reminder that, on February 24, 2022, Russia started a full-scale invasion of Ukraine. Russian troops are shelling and bombarding Ukrainian cities and villages, torturing and murdering civilians.
mk
---
Source: Ukraine to launch counteroffensive as heavy weapons parity achieved – NSDC Secretary