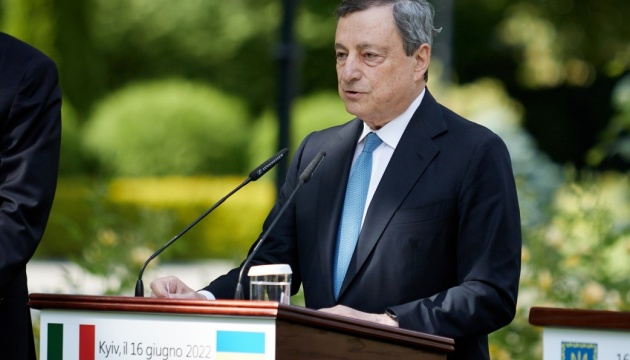 The will of Ukraine in terms of achieving peace is decisive, and this peace must be lasting and the one that Ukraine wants it to see.
Italian Prime Minister Mario Draghi said this at a joint press conference with the leaders of Ukraine, Germany, France and Romania in Kyiv on Thursday, according to an Ukrinform correspondent.
"We really want peace. We want other cities not to suffer, but Ukraine must defend itself in order to achieve peace. And we won't do anything in one way or another without taking into account the will of Ukraine. Ukraine must choose the peace it wants, the one it deems acceptable for its people. Only in this way can it be a lasting peace," Draghi said.
He noted that Italy gives its full support to the investigation into war crimes committed by Russian forces and that the country will help rebuild Ukraine.
French President Emmanuel Macron, German Chancellor Olaf Scholz, Italian Prime Minister Mario Draghi and Romanian President Klaus Iohannis arrived in Ukraine on June 16. They have already visited Irpin and held talks with President Volodymyr Zelensky.
Photo: President's Office
---