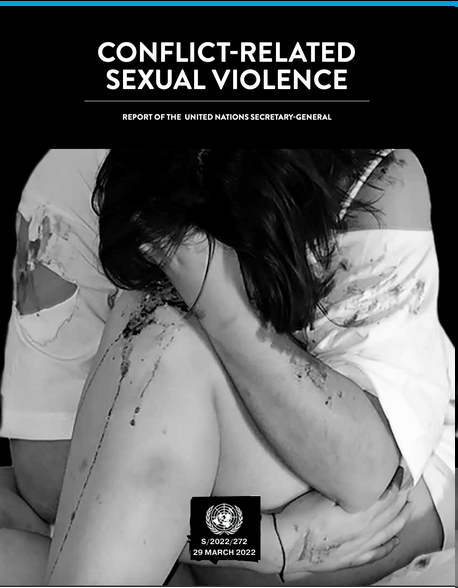 On June 19- international Day for the Elimination of Sexual Violence in Conflict. The use of sexual violence by the Russian military as a strategy and weapon of war and terror is a devastating consequence of Russia's aggression. The United States has reaffirmed its unwavering support for Ukraine's security, democracy and human rights. Addressing the onslaught of sexual violence, which is disproportionately perpetrated against women and girls, is central to this commitment. Steps toward preventing, mitigating and responding to this violence need to be integrated within an overall strategic security effort, including in the prevention of atrocities.
On June 6, USIP hosted a conversation with U.N. Special Representative of the Secretary-General (SRSG) on Sexual Violence in Conflict Pramila Patten following her recent visit to Ukraine. During the visit, SRSG Patten signed a Framework of Cooperation between the government of Ukraine and the United Nations to support conflict-related sexual violence prevention and response efforts.
Sexual violence in Ukraine, especially against women and girls, remains prevalent and underreported, and the humanitarian crisis in the war-torn country is turning into a human trafficking crisis, the U.N. special envoy for sexual violence in conflict said Monday. Pramila Patten told the U.N. Security Council that there is a gap between its resolutions aimed at preventing rape and other sexual attacks during conflicts and the reality on the ground for the most vulnerable — women and children. As of June 3, she said, the U.N. human rights office had received 124 allegations of conflict-related sexual violence 97 of them involving women and girls, 19 against men, seven against boys and one gender unknown.
U.S. Ambassador Linda Thomas Greenfield cited a mountain of credible reports of atrocities committed by Russia's forces against civilians, including horrific accounts of sexual violence. More and more allegations show Russia's soldiers sexually assaulting women and girls, as well as men and boys, she said. We have heard from Ukraine's deputy prime minister that Russian soldiers raped Ukrainian women for hours and then killed them.
Venediktova on difficulties of investigating facts of rape by Russian troops: There are currently three victims and two identified criminals. Prosecutor General Iryna Venediktova emphasizes the complexity and delicacy of investigations into rapes committed during the war, and says that two occupiers have been identified as having committed such crimes. She announced this on the air of the Ukrainian telethon on Thursday. "Unfortunately, we have experience in investigating such crimes (sexual violence) during armed conflicts, during the war in 2014. Since 2014, these atrocities have taken place in the occupied territories – both rape and torture. I will remind you of the "Isolation" under investigation. Therefore, of course, we have an investigation methodology," Venediktova said. According to her, the methodology of investigating rape during the war differs from the methodology of investigating rape in ordinary life. "In case of habitual rape, we have to do quick examinations within hours in order to have an effective result of the investigation. And when this happens during the war, the examination of the victim may not take place within hours, but in weeks or months, "the prosecutor general explained. The Prosecutor General stressed that many such crimes are currently being committed, in particular in the occupied territory of Kherson region.
"We need to remember that inside the investigation of such crimes, there must be a person who has suffered from them…. A person who has experienced the most terrible stress in his life. Therefore, we must do everything to make such a person feel protected. If she feels protected, she will turn to law enforcement agencies," Venediktov said.
At the same time, the Prosecutor General noted that many victims in the occupied territories are afraid that "the orcs will return and be killed." "Therefore, we must understand that such crimes must be investigated carefully, protecting these rights of people, protecting their privacy, giving them the opportunity to rehabilitate," said the prosecutor general. "We will have a lot of such cases after the war, when people will already feel safe. Today we have three victims and two identified criminals," Venediktova said.
She clarified that the criminal proceedings on the accusation of one of the Russian servicemen of rape were sent to court in absentia, and a court hearing is scheduled for June 23. "We will try to do everything to protect the life of the person who committed this crime," the prosecutor general concluded.