"The situation on the front line is tense, complicated, and I'm not from the camp that believes the Russian army is weak. They have very big resources, and they have brought them here.They have an advantage in artillery and heavy equipment. That doesn't scare our warriors. We are holding our positions. From time to time we are delivering counterattacks. But the war is still ongoing, and we are far from its end." Mr. Danilov said.
While the war's main front is currently Donbas, Mr. Danilov believes Mr. Putin's aims remain the same as they were at the start of the invasion.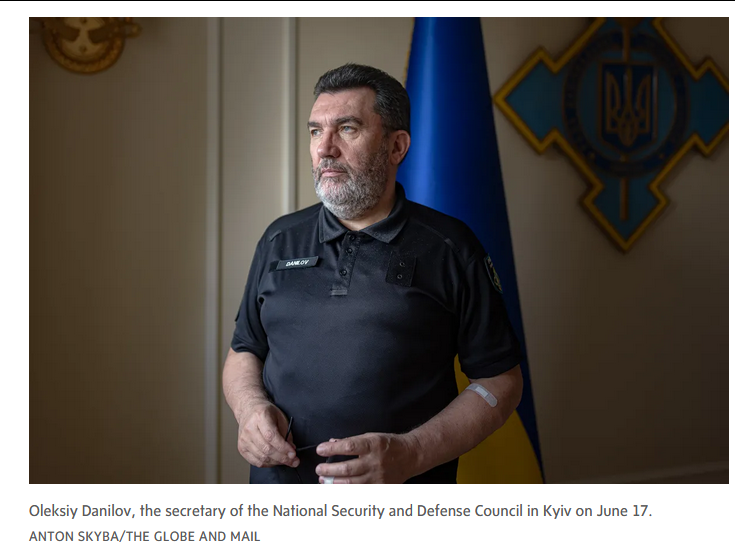 "They definitely have not changed their plan to conquer all the country. The fastest way to end the conflict, he said, would be for Ukraine's partners to give it the weaponry it needs to defeat the Russian army in the field. Earlier this week, Mykhailo Podolyak, an adviser to Mr. Zelensky's chief of staff, said Moscow had a 10-to-1 artillery advantage along the 1,000-kilometre front line in eastern and southern Ukraine. He called for Ukraine's allies to provide it with an additional 1,000 155-millimetre howitzers, as well as 500 tanks and 300 multiple-launch rocket systems. So far Ukraine's allies have delivered about 100 of the requested howitzers, including four from Canada. Several Eastern European members of NATO have donated an unknown number of Soviet-era tanks, with the United States promising to replenish the arsenals of those countries with modern armour. The U.S. and Germany have said they will provide Ukraine with the sophisticated rocket systems it seeks, though it's unclear if any have been delivered so far.
A lot of rules are being broken right now," Mr. Danilov said in an interview Friday. "This is a constant reminder that there are no rules in the world. That is a very important part of our reality."The laws of war – particularly those that prohibit the targeting of civilians – have been repeatedly broken during the 114-day old conflict, which has seen Ukrainian cities devastated by seemingly indiscriminate Russian bombardment. Evidence from towns and villages that fell under Russian occupation at the start of the war points to a campaign of extrajudicial executions and sanctioned rapes in those areas. Mr. Danilov said Ukraine was preparing for more rules to be broken, including the biggest taboos: the use of chemical, biological or even tactical nuclear weapons. "We are ready for any scenario," he said. Mr. Danilov said it is crucial that the West not become numb to the war in Ukraine or pressure Kyiv into a peace deal that benefits Moscow – even to preserve the global economy.
With modern weapons, Ukraine would be able to liberate the country's eastern region from Russian invaders, but it could take years. The relevant statement was made by NATO Secretary General Jens Stoltenberg in an interview with Germany's Bild, an Ukrinform correspondent reports. "Ukrainians are bravely defending themselves against Russian invaders. Although Russia is waging the war in the Donbas with increasing brutality, Ukrainian soldiers are putting up brave resistance. With more modern weapons, the likelihood increases that Ukraine will be able to drive Putin's troops out of the Donbas," Stoltenberg said. Meanwhile, according to Stoltenberg, nobody knows when the war ends. The West must prepare for the fact that it could take years and must not let up in supporting Ukraine.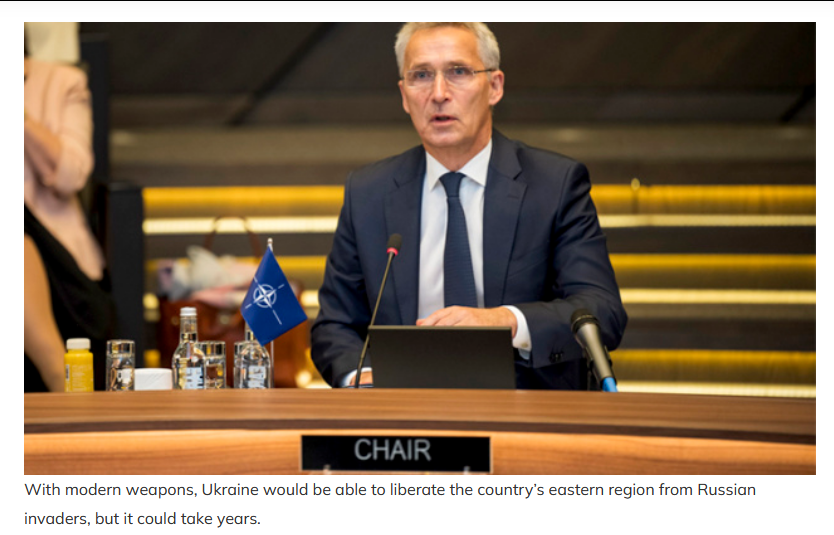 "Even if the costs are high, not only for military support but also because of rising energy and food prices. But, that is no comparison to the price that Ukrainians have to pay every day with many lives. And if Putin learns from this war that he can simply carry on as he did after the 2008 war in Georgia and the occupation of Crimea in 2014, then we will pay a much higher price," Stoltenberg stressed. In his words, NATO will continue to support Ukraine in its self-defense but will not be part of the conflict. "We are helping the country, but we will not send NATO soldiers to Ukraine," Stoltenberg explained.
Boris Johnson: We will never be secure if we turn our backs on valiant Ukraine. Alas Putin's failures do not mean he will have the wisdom to retreat. In his isolation, he may still think total conquest is possible. I am afraid that we need to steel ourselves for a long war, as Putin resorts to a campaign of attrition, trying to grind down Ukraine by sheer brutality. The UK and our friends must respond by ensuring that Ukraine has the strategic endurance to survive and eventually prevail. Time is the vital factor. Everything will depend on whether Ukraine can strengthen its ability to defend its soil faster than Russia can renew its capacity to attack. Our task is to enlist time on Ukraine's side.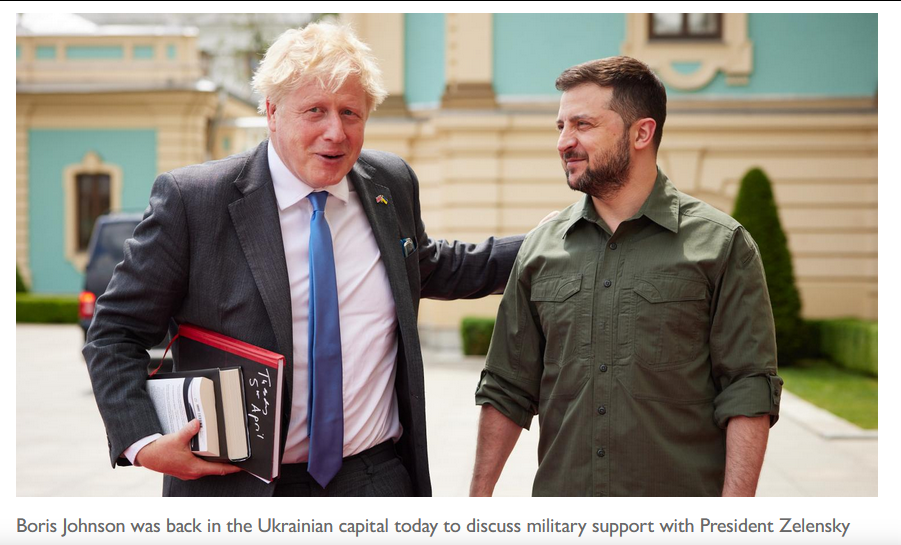 What should be our approach now Putin's war is entering a new phase? I start with the most important fact of this tragedy: Ukrainian heroism and sacrifice saved Kyiv from Russia's armoured assault and preserved the state with President Zelensky at the helm. While Putin ponders his delusions, Britain and our allies must take four vital steps to recruit time to Ukraine's cause.
First, we must ensure that Ukraine receives weapons, equipment, ammunition and training more rapidly than the invader, and build up its capacity to use our help. Before this onslaught, British instructors trained more than 22,000 Ukrainian troops, an achievement that happened over seven years. Now we need to move faster, training that sort of number in months. So the UK plans to work with our friends to prepare Ukrainian forces to defend their country, with the potential to train up to 10,000 soldiers every 120 days.
Second, we must help preserve the viability of the Ukrainian state. President Zelensky's government has to pay wages, run schools, deliver aid and begin reconstruction wherever possible. That will require constant funding and technical help, which we should plan to sustain for years to come. The EU has a vital role and I applaud the leaders of France, Germany, Italy and Romania for visiting Kyiv on Thursday.
Third, Russia has imposed a stranglehold on Ukraine's economy by blockading its principal export routes across the Black Sea. We need a long-term effort to develop the alternative overland routes that already exist and ensure that Ukraine's economy continues to function.
Most gravely of all, the Russian blockade of Odesa and other Ukrainian ports is preventing the export of desperately needed food for the poorest people. As I write, some 25 million tonnes of corn and wheat — the entire annual consumption of all the least developed countries — is piled up in silos across Ukraine, held hostage by Russia.
This leads to the fourth point: we need to get that food out. The UK supports the efforts of the UN to negotiate a safe corridor for exports by sea.Ukraine's ports are vital to global food supplies and we will keep supplying the weapons needed to protect them.
None of these steps will yield immediate results, though the need to restore food exports could scarcely be more pressing. All will require a determined effort by the UK and our allies, lasting for months and years. And all serve one objective. We must strengthen the hand of our Ukrainian friends to finish this war on the terms that President Zelensky has laid out. That should be the definition of success. The Ukrainian people have been clear they will not be forced into accepting less than that. In so doing, we and our allies will be protecting our own security as much as Ukraine's and safeguarding the world from the lethal dreams of Putin and those who might seek to copy them.
"We will continue to support Ukraine for as long as necessary," he said. "We want to make sure that Russian President (Vladimir Putin's) calculations do not work out. Putin obviously hopes that everything will fall into place once he has conquered enough land and the international community will return to business as usual. That is an illusion."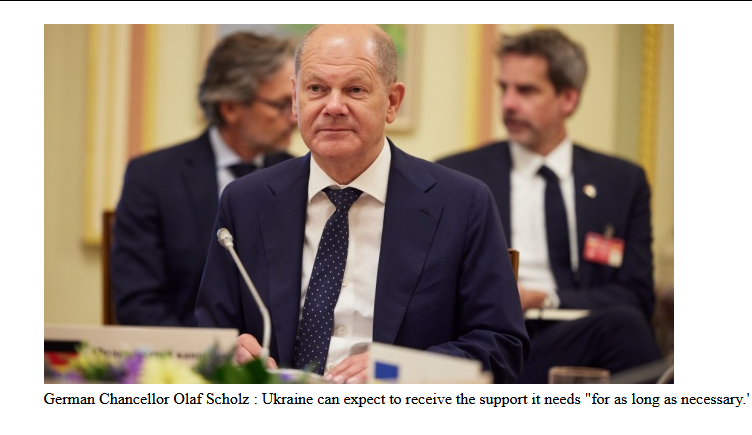 According to Scholz, he wants to use next week's meeting with fellow G7 leaders in the Bavarian village of Elmau to discuss Ukraine's long-term prospects.
According to Scholz, he and his counterparts from France, Italy and Romania had discussed further weapons supplies for Ukraine — specifically ammunition and artillery — with President Volodymyr Zelensky during their visit to Kyiv on June 16.
The war will only be over when the last Russian troops have left Ukrainian soil – including both Donbas and the Crimean Peninsula, which Moscow seized and illegally annexed in 2014. However, he held out the possibility of a negotiated interim settlement. "The end of the war for us is getting back all our territories. Is a stop in this war possible? It might be an option. But this stop must be accepted by our society. If it's not accepted, the society will go to war without the government." Mr. Danilov said
There are no significant peace talks taking place at the moment. Asked how long the war would go on – whether the conflict would end up being measured in months or years – Mr. Danilov said this was "the question nobody can answer."
From February 24 to June 19, the Armed Forces of Ukraine eliminated about 33,600 Russian service members.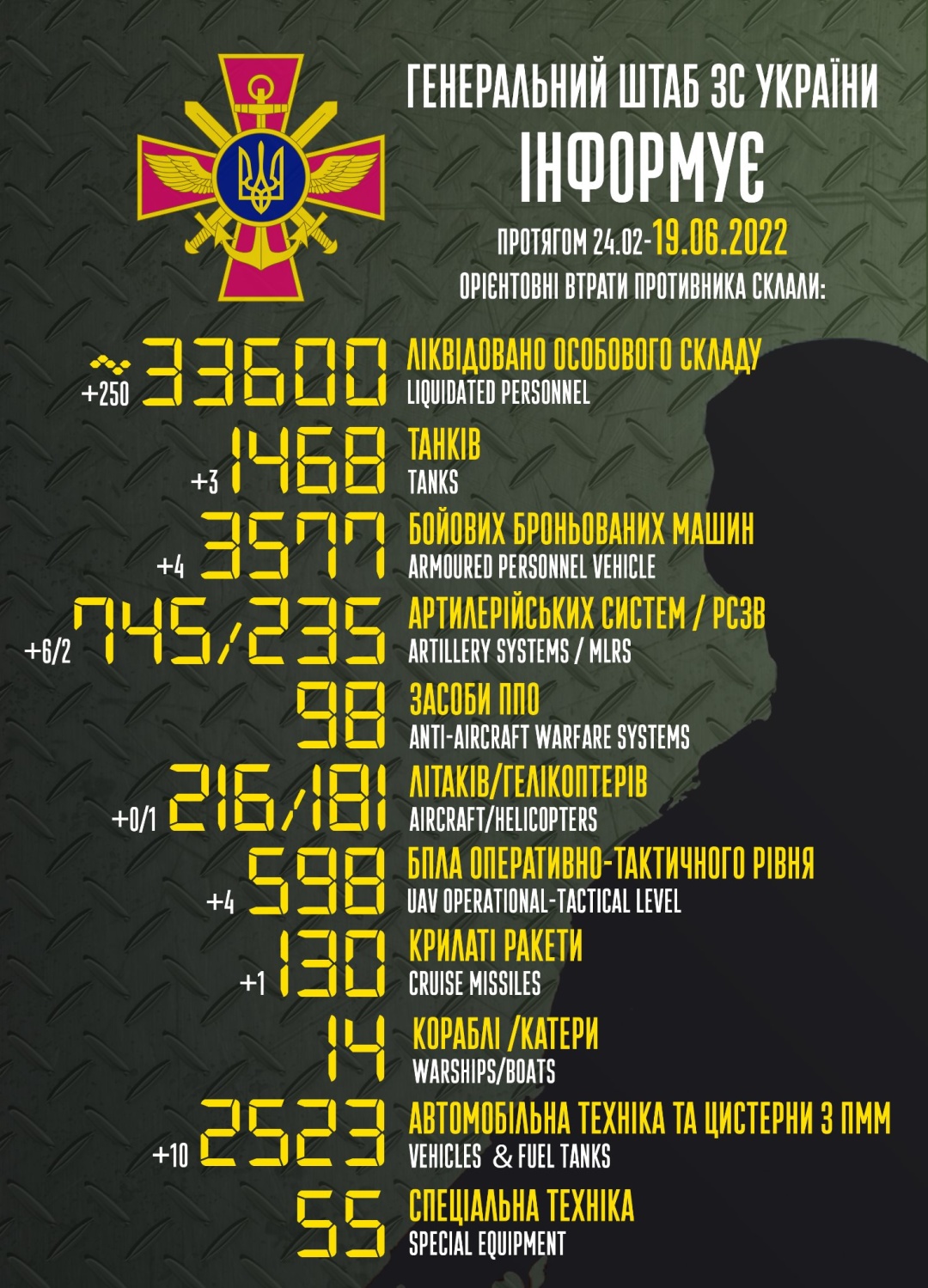 As the General Staff of the Armed Forces of Ukraine posted on Facebook, the Ukrainian defenders also destroyed 1,468 (+3 over the past day) enemy tanks, 3,577 (+4) armored combat vehicles, 745 (+6) artillery systems, 235 (+2) MLRS, 98 air defense systems, 216 aircraft, 181 (+1) helicopters, 598 (+4) operational and tactical level UAVs, 130 (+1) cruise missiles, 14 (+0) ships / boats, 2,523 (+10) vehicles and fuel tanks, 55 units of special equipment. The enemy suffered the biggest losses in Bakhmut and Zaporizhzhia directions.