The European Commission recommended last week that Ukraine be granted EU candidate status, which is a mandatory formal step before the issue is considered at the level of the European Council.
Following an official opinion of the European Commission, one of the skeptical countries — the Netherlands — announced that it was ready to support granting Ukraine candidate status. At the same time, the Minister of Foreign Affairs of the Netherlands, Wopke Hoekstra, said that it could take many years before Ukraine becomes a full member of the EU. On Wednesday, June 22, the House of Representatives of the Dutch Parliament will discuss the country's position at the upcoming EU summit.
The European Council will consider Ukraine's bid for receiving the status of a candidate for EU membership at a meeting on June 23-24.
An Ukrinform correspondent in the Netherlands spoke with Emine Dzhaparova, First Deputy Foreign Minister of Ukraine, who held a series of meetings to encourage European counterparts to support Ukraine and grant the country EU candidate status.
TRANSFORMATION OF PUBLIC OPINION IN THE NETHERLANDS
– On June 17, the European Commission recommended granting Ukraine the status of a candidate for EU membership. What does this mean for skeptical countries?
– This opinion, this assessment will be taken into account, but that's not all. There is another nuance. An opinion of the European Commission is followed by national procedures that require parliaments to adopt appropriate recommendations to their governments. And the debate on this issue in some parliaments, including in the Netherlands, will be very active. And, in fact, it's not clear which position wins. So we are here to create a basis for the parliament's recommendation to be in Ukraine's favor.
– What do you feel after the Government of the Netherlands declared its readiness to support granting Ukraine the status of a candidate for EU membership? How did you manage to reach the skeptical Netherlands?
– I feel uplifted, and I can accurately summarize the work of a large team of people whose mission has been accomplished. What we have been doing here in the past few weeks is ensuring a multi-component presence, actively working with experts, media, officials, parliament, and cultural diplomacy – we have used all possible levels and are happy to have received the signals we expected.
And the messages we conveyed, I think, they made an impression. The transformation of public opinion in the Netherlands has taken place, and the government has to keep up with what ordinary people think. And people think that we are part of the European community, that we deserve to be a country that must join the EU. At the same time, everyone understands that this is a path requiring transformation, reforms, and enormous efforts.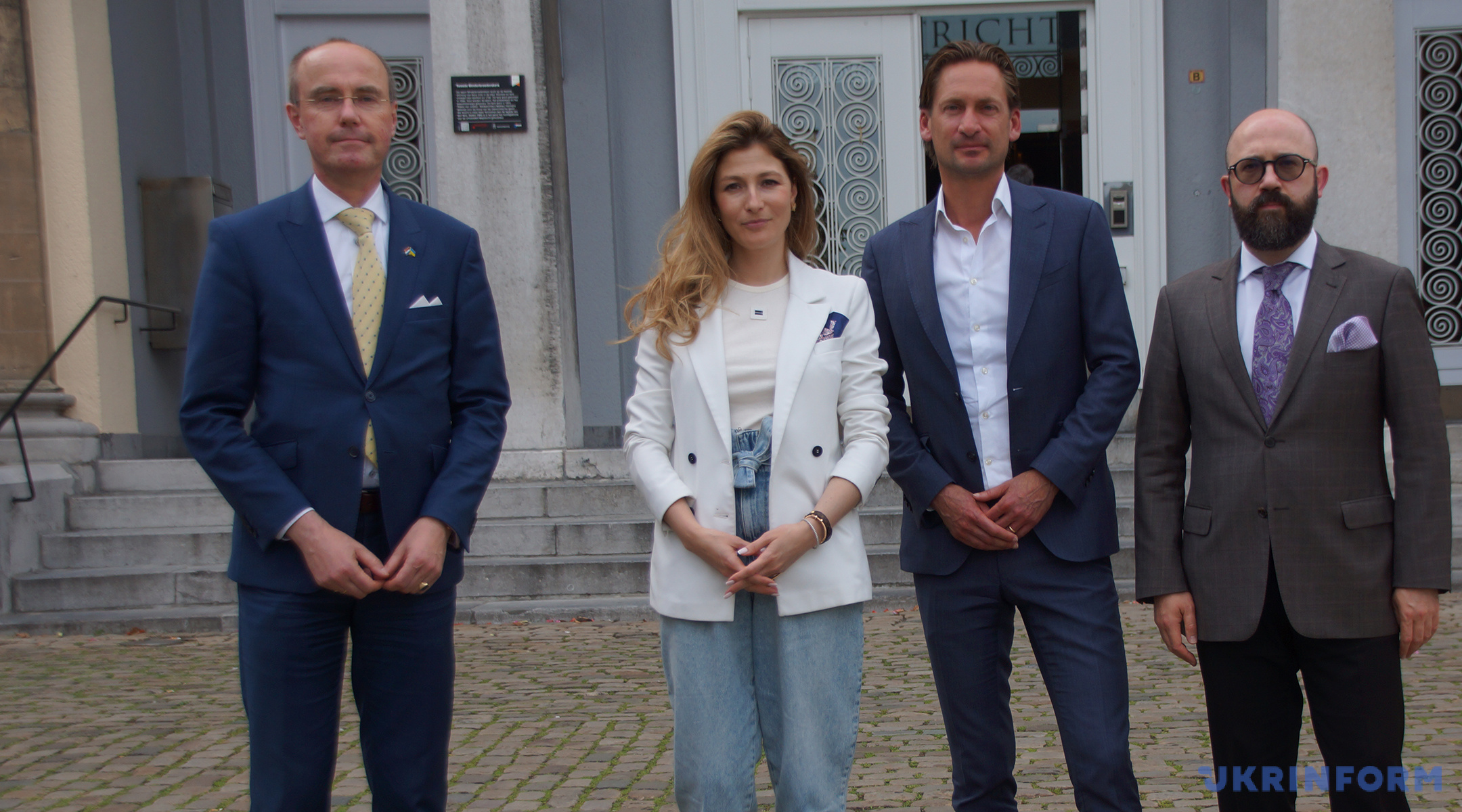 – Yes, Ukraine still has a lot to do, and they all constantly remind us of this. What has been done in the past eight years?
– We understand that on June 23-24, when, I hope, Ukraine is granted candidate status, it will be a political investment in the future, a political signal. At the same time, countries must take into account what we have already done. For example, 63% of the Association Agreement has been implemented. We are integrated into all possible areas of the European Union – from energy to trade. And this path will continue. Some 93% of our foreign policy decisions are in line with the European Union. We are consciously synchronizing our foreign policy decisions with our main partner — the European Union. And this is also a sign that for us it is not just pathos, but our life, and we demonstrate our Europeanness on very specific life examples – when we fight, when we die for values, when people in European countries only talk about them, while we defend them. And this is a really huge path, when in such conditions we show the strength to talk about the future, rather than become pessimistic. And every Ukrainian does what he or she can. Putin's war has called into question stability as a phenomenon. And today more and more European countries understand that their security policy is not sufficient, is not effective, and it will not happen without Ukraine.
EUROPE NEEDS UKRAINE AS MUCH AS WE NEED EUROPE
– Why does the European Union need Ukraine?
– Ukraine will be a powerful partner. We are not a country that always asks for some assistance, as some imagine us to be. We are a country that makes a significant contribution, including to the security dimension. There is no country in the EU that would have such an experience of war, there is no country with such an army as ours. Agriculture, digitalization… There is no country in the EU that has such a mobile app as "Diia", when in a few clicks you can get most of the public services. We tell all this to our partners, we demonstrate it to them.
– Last week, French President Emmanuel Macron, German Chancellor Olaf Scholz and Italian Prime Minister Mario Draghi visited Kyiv. How does such a demonstration of the horrors of war affect the leaders of the three countries when they return home from Ukraine?
– When you see with your own eyes that such horrors can happen in Europe in the 21st century and you see this not in the newspapers or videos, but with your own eyes, when you hear people who have survived these horrors, you can no longer live the way you lived before. And if it seems that the war is far away, then no, it is very close. For example, the Dutch like to go on holiday to Spain, and this is the same distance.
– What does the EU candidate status mean for Ukraine?
– Every relationship at some point needs to be formalized. I said so if we use metaphorical language. For example, when a man proposes to a woman and gives her a wedding ring as a sign that he wants to be with her, it does not guarantee that they will get married. But the wedding ring is a sign, a demonstration of the seriousness of intentions. We also see the candidate status as a signal that we are part of the European community. And if we do not receive this status, we will consider it to be a signal to Putin of the possibility of moving forward with impunity. His appetites will grow, and other countries will be the first under threat. We are on the verge of huge threats that did not exist after the Second World War. Putin wants to redraw the whole modern geopolitical map, so we say that Europe needs Ukraine as much as we need Europe.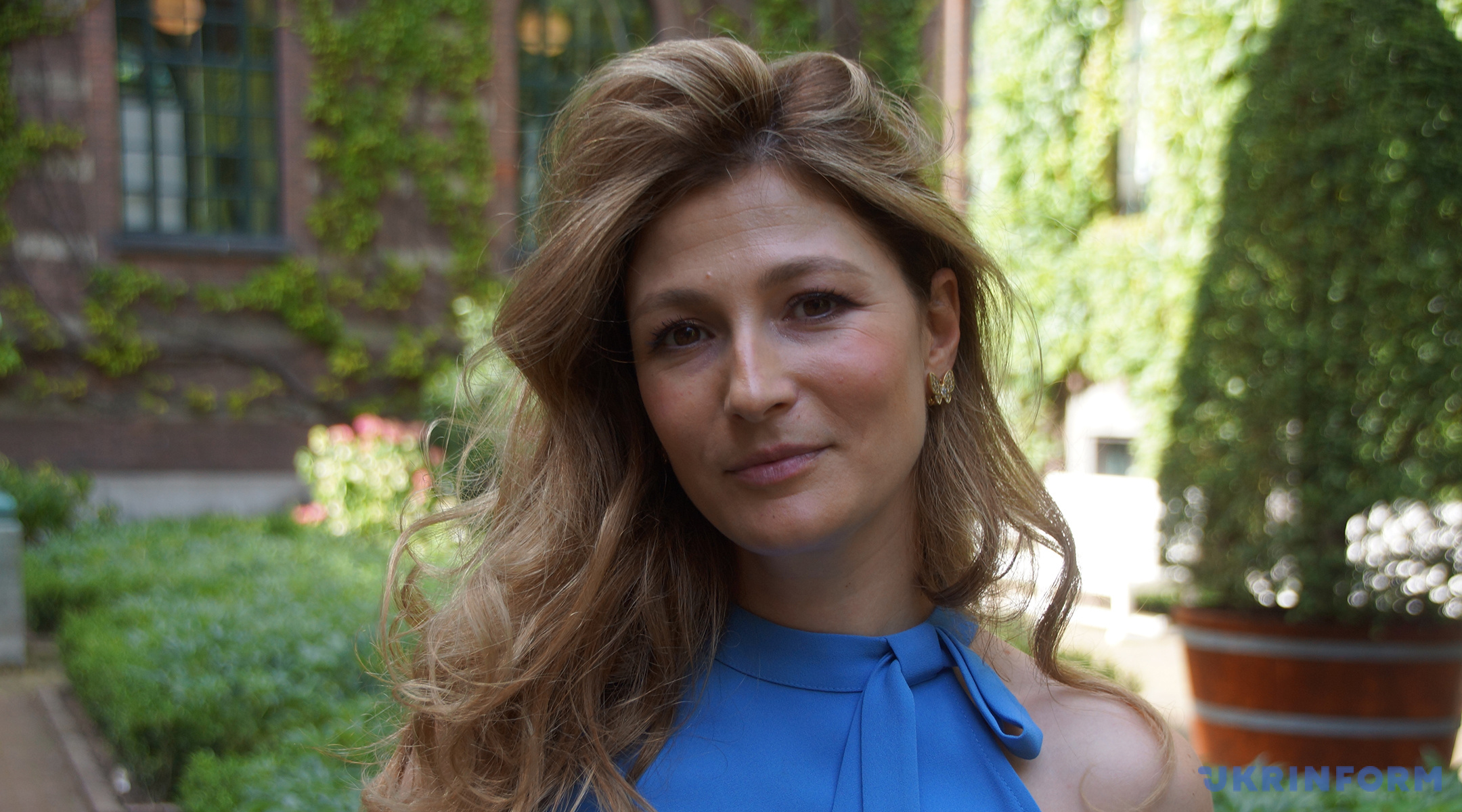 WE ARE WORKING TO MAKE SURE EVERY UKRAINIAN COULD RETURN HOME
– During your visit to the Netherlands, you met with Ukrainians who have been forced to leave their homes due to the war. What was this meeting like?
– The meeting was not just emotional. It was full of family ties. We shared our stories. I told my story about how my family is currently overcoming these challenges of war, and Ukrainians shared their stories and experiences with me. The main thing I came to them with is that we will all return [to Ukraine]. The president expects all Ukrainians to return home. And we are working to make sure that every Ukrainian could return home and have a place to return to.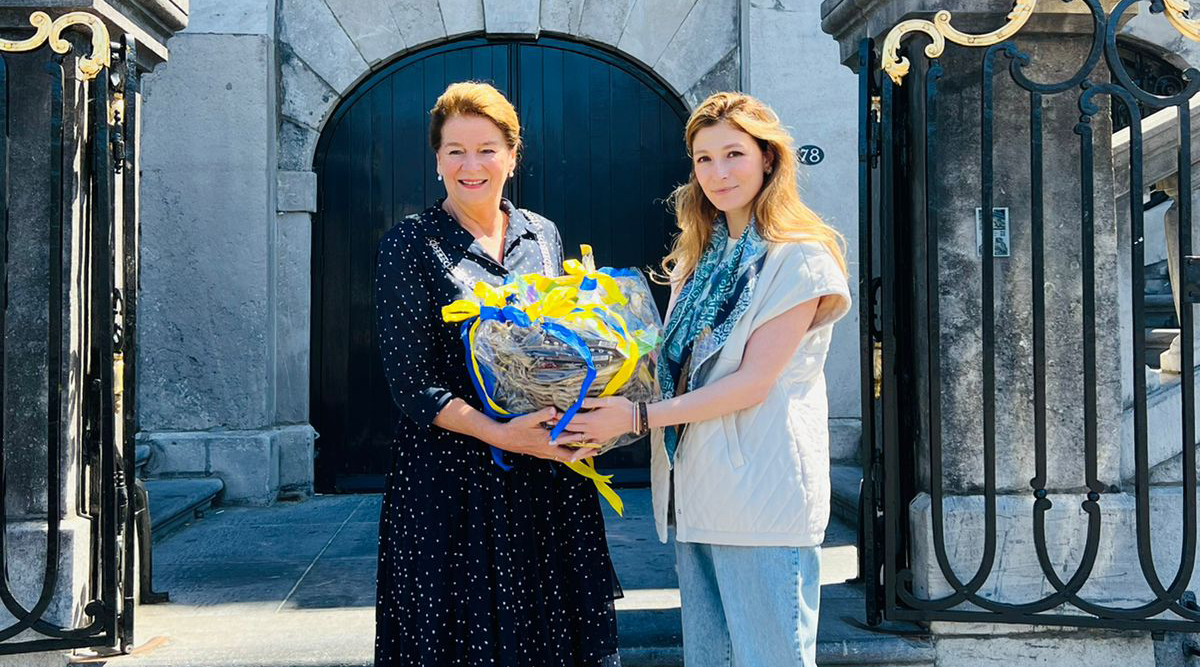 – Tell us about your meeting with Mayor of Maastricht Annemarie Penn-te Strake, in particular, about further cooperation and the possibility of twinning between Maastricht and a Ukrainian city.
– It was a fantastic meeting. She is an empathetic person. She has done a lot to help our Ukrainians here. She asked what else could be done. In particular, we discussed the possibility of rehabilitating our civilians affected by the war. We talked about the possibility of signing an agreement on sister cities. And the mayor was very positive about this. We now have to work on this issue and give them suggestions.
– Last week, Rotterdam hosted a one-day business forum on the rebuilding of Ukraine. The event was attended by representatives of the public and business sectors of the Netherlands, foreign business, Ukrainian and Dutch associations in the fields of agriculture, energy, medicine, IT. Why are such events important for Ukraine today?
– We are presenting the government's vision of the reconstruction and development of the country. And this is also an investment in the future, because the war will end and the country will have to be rebuilt. And we see this rebuilding in the partnership. We invite Dutch businesses, and about 300 companies have registered for this business forum. That is, we see that there is great interest.
We are now presenting our roadmap. Dutch business needs to hear this. And on this basis, we can already talk about cooperation. This business forum provided signals from the Ukrainian side that reconstruction and development is what we are working on. That there is a government plan to be presented at the conference in Lugano, there are clear priorities, that there is really a business that is still going on, and there are companies that invest in Ukraine even under such difficult conditions, that life is going on.
And it is important for us to look for these opportunities, because the economy and entrepreneurs are the blood of any state. I am glad that a large number of people registered, there was maximum attendance. There are some signals of interest from the Dutch side, in particular from the Minister of Trade, with whom we met and talked in detail. Ukrainian companies working in IT, agriculture, energy came here to establish contacts with Dutch companies. Business contact always works better, because we can only create conditions.
And I looked at our participants: they are young, active, with excellent English. This is exactly how I imagine Ukraine. It seems to me that the Dutch – either businesses or government agencies – looking at such representatives of Ukraine, conclude for themselves that this is not the Soviet style of robots that read speeches from a sheet, barely speaking or not speaking any language except Russian. That is, it is a sign that we are people who want something, who are fighting for the future. Since one of the tasks of Russia is to kill our economy, then what we demonstrate, including at a business forum, is one of our counterattacks.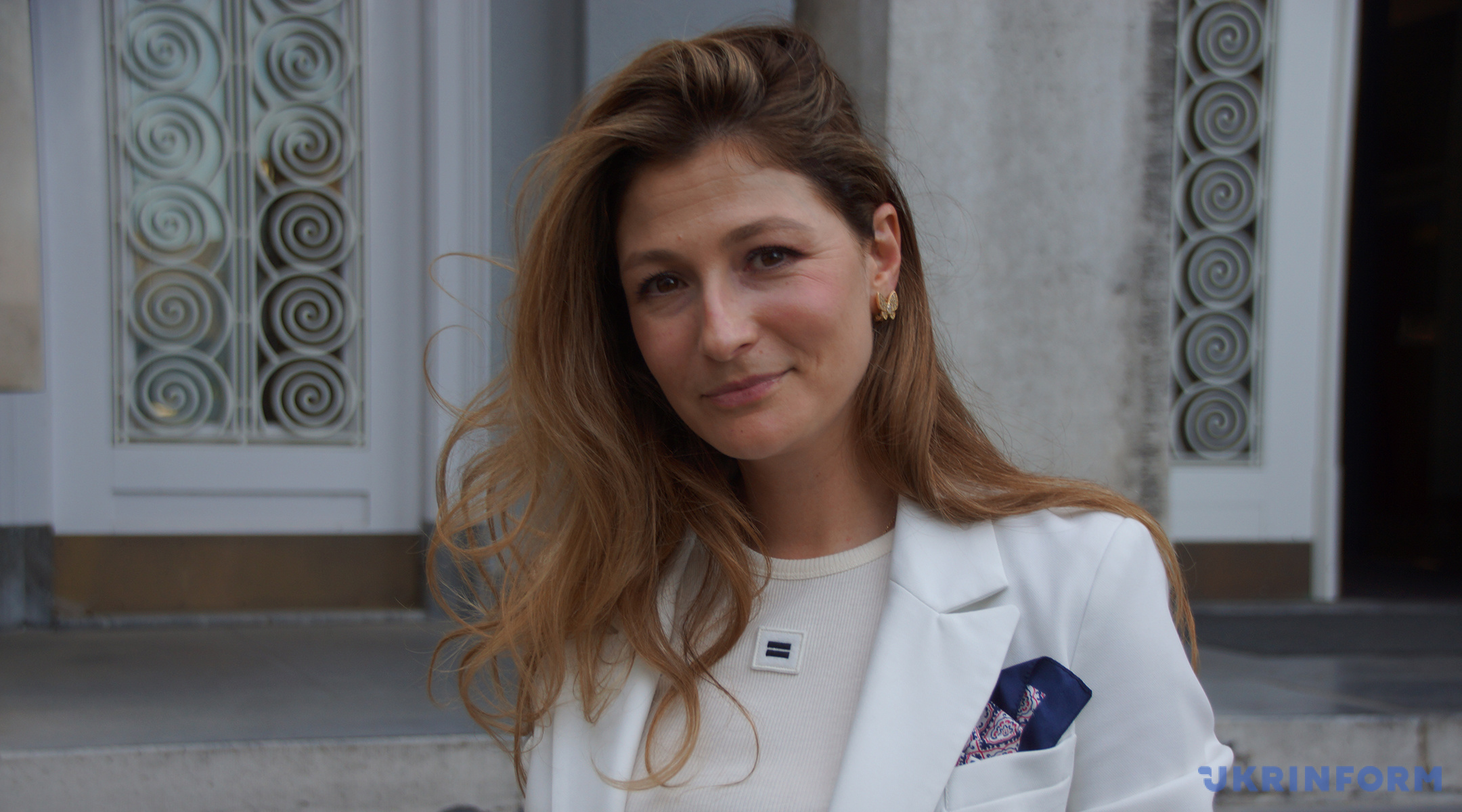 INTERNATIONAL TRIBUNAL TO INVESTIGATE RUSSIAN AGGRESSION
– Last week, it emerged that a Russian spy was trying to infiltrate the International Criminal Court as an intern. What do such actions by Russia say?
– Ukrainians have had no illusions for a long time. Russia is a cynical, insidious country that uses every opportunity to continue its crimes. The fact that posing as a Brazilian, this GUR officer Sergey Vladimirovich Cherkasov tried to infiltrate the ICC and obtain sensitive information, information related to their crimes, means that they feel that these crimes exist. We all know that these crimes exist, but if you listen to Russian officials and the propaganda that Ukraine is to blame for everything and they tried to save the world from Nazism, all this nonsense proves that this country is going further and deeper into the point of no return.
– How has the world's attitude to Russia changed today?
– Yes, what we have today about Russia is not enough. At the same time, the way Russia is seen today has never been before. We constantly had to find a million and a thousand arguments, proving what modern Russia is. We were partly heard and partly not heard. Today it is much easier to do this. However, even under such conditions, we still have voices that are beginning to say: let's begin to reach an agreement.
– More than 40 countries supported the idea of creating the Special Tribunal for the Punishment of the Crime of Aggression against Ukraine. When and how can it be created?
– Crimes against humanity, war crimes, crimes of aggression, genocide – all these can be considered by the International Criminal Court. But it is essential for us to prove that Russia is an aggressor country. The world's leading lawyers spoke about the need to think about creating a separate tribunal. We followed this path. We are currently conducting diplomatic work to prove why Ukraine wants to launch this tribunal. It is crucial for us that it should be internationally recognized. Not just a national court in Ukraine, but an international tribunal. And the more countries are there, the greater the authority of this court is. And since our history proves that everything impossible is possible, there is also hope here that countries will support this idea.
CRIMEA IS ANOTHER HUB OF RUSSIAN AGGRESSION
– Russia uses Crimea for military purposes. Tell us about forced conscription in the annexed Crimea and life under occupation.
– Today, Crimea is directly used as a projection of force. Because the military is being brought to Crimea, equipment is being brought there, stolen grain is being brought. That is, Crimea is another hub of Russian aggression. People in Crimea, as they have been living under occupation for eight years, are afraid. This is the key thing that all Ukrainians should understand. Fear is the main feeling of the people there under occupation.
And the most cynical thing that is happening is the replacement of the population. For example, under such depressive conditions, Ukrainians simply leave, and Russians are brought in and stimulated to live there. Half a million Russian citizens have already arrived in Crimea. This is a crime. Today, they are trying to recruit our citizens from the occupied territories, in particular from Crimea, into the Russian army, and they are doing so by force. And if you refuse to join the army, you can go to jail. And this is a deliberate policy, when they actually kill our own citizens at the expense of our own citizens. And, of course, for us, it is a great human tragedy. And the same policy is used to the Crimean Tatars – to do everything possible to have the Crimean Tatars in the Russian army, who would then be sent here to fight.
– On the third day of the all-out invasion, Ukraine filed a lawsuit against Russia with the UN International Court of Justice demanding to bring the aggressor to justice for distorting the concept of genocide. After all, in order to justify its attack, Russia is actually trying to change the reality and distort everything, saying that Ukraine is allegedly guilty of genocide in the Donetsk and Luhansk regions. In March, a court ordered Russia to immediately suspend military operations launched on February 24, 2022 in Ukraine. However, Russia ignores this court decision. What's next?
– Our position is based on the fact that Russia is manipulating the very concept of genocide in order to hide their own crimes. And, in fact, today we invite countries to intervene. This is a legal procedure where countries can express their position on this, because the court has determined that we have until September 22, 2023 to submit our position. We will do it within a month, that is, we will do it earlier. And in fact, when we do, Russia must respond. The trials take much time regardless of whether this concerns the UN International Court of Justice or the idea of creating a separate international tribunal for aggression that we want to launch. The Scythian gold case alone has shown us how things that are obvious to us can last for years in space and time.
– The so-called Russian Crimean museums, after the defeat in the Amsterdam Court of Appeal, went to the Supreme Court of the Netherlands. However, it seems that it will quite difficult for the so-called Crimean museums, because after the all-out invasion, a law firm representing the interests of Crimean museums abandoned its clients. What does this mean for us?
– We will return the Scythian gold. It is already obvious to me that there is no chance for Russia. First, their legal position is weak. Secondly, in the civilized world it is difficult to find people willing to represent Russia's interests in court. There is no one to protect. Can you imagine the level of toxicity? None of those with world authority wants to work with them, and this is also a victory for us. That is why we must continue our struggle.
Iryna Drabok, The Hague
Photos by the author
---
Source: Emine Dzhaparova, First Deputy Minister of Foreign Affairs of Ukraine