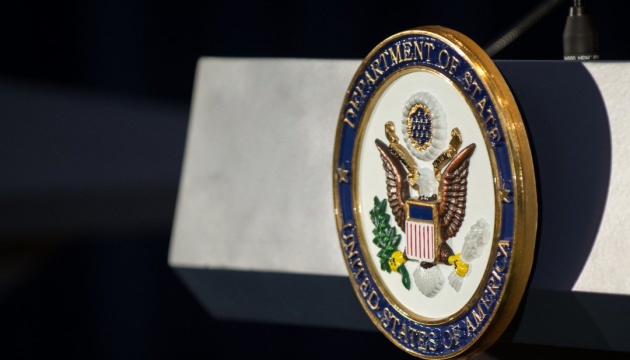 The United States condemns the Kremlin's widespread disinformation campaign aiming to blame the United States, the West, and Ukraine for the growing famine in Africa, the Middle East, and other regions.
"Russia's government officials, Russian state-funded media, and Kremlin-aligned proxy disinformation actors are attempting to deflect attention from Russia's responsibility for worsening global food insecurity by blaming sanctions, 'the West', and Ukraine," reads the statement by the U.S. Department of State released on Wednesday.
As noted, the Kremlin and its proxies' massive disinformation campaign is heavily targeting the crisis's most heavily impacted regions – the Middle East and Africa. These false narratives are amplified by Kremlin-controlled state outlets such as RT Arabic and RT en Francais, as well as the People's Republic of China state media. Russian government's top diplomats and its embassies are also engaged in these efforts.
"Food insecurity has risen because of Putin's war of choice. It was not caused, as the Kremlin claims, by sanctions that the United States and many other countries have imposed in response to Russia's horrific aggression against Ukraine," the U.S. Department of State stressed.
It is underscored that food insecurity was rising before the invasion, and Putin's war exacerbated that trend.
"Russia mined Ukrainian grain fields, attacked merchant shipping on the Black Sea, and blocked Ukrainians from exporting their own grain. Russia is also plundering Ukrainian grain for its own profit, pilfering grain from Ukrainian warehouses," reads the statement.
As noted, the United States and its partners have taken great care to avoid exacerbating food insecurity. In particular, U.S. sanctions include carveouts for agricultural commodities and permit transactions for the export and re-export of food to and from Russia, even with a sanctioned individual or entity.
Moreover, the United States has pledged $2.6 billion this year in humanitarian food assistance to help alleviate world hunger, with an added $5 billion to be added over the next five years.
It is underscored that the Russian government's attempts to deflect responsibility for its actions by blaming others for the worsening crisis in the global food system are reprehensible.
"Russia's disinformation cannot hide its responsibility for the global food crisis," the U.S. Department of State stressed.
In this context, the United States emphasized that the Russian government should stop weaponizing food and allow Ukraine to safely ship out its grain so that millions of hungry people in the Middle East and Africa can be fed.
As a result of hostilities, more than 20 million tonnes of Ukrainian grain have been blocked in Ukrainian ports, much of which was intended for the UN World Food Programme. The EU created so-called "solidarity lanes" for grain exports by land, using rail, road, and inland waterways. However, these emergency measures cannot fully address the issue of food security.
ol
---
Source: US Department of State: Russia's disinformation cannot hide its responsibility for global food crisis