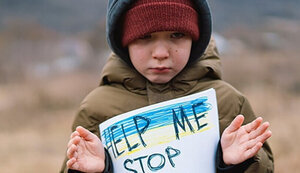 Cases of abduction of relatives of Ukrainian servicemen in the temporarily occupied territories are becoming systemic. In particular, it recently became known that the occupiers had taken hostage several children of another Ukrainian serviceman.
Today, most of these cases are recorded in the temporarily occupied territories of Zaporizhia, Kherson, and Mykolaiv regions. At the same time, both adult relatives (including women and elderly people) and children are abducted. Unfortunately, the databases of Ukrainian citizens fall into the hands of racists during the seizure of office buildings or with the help of collaborating traitors", said in a statement. In the future, the russians may contact the military and demand to arrive in the occupied territories in exchange for the safety of relatives.
Since the beginning of the large-scale invasion of Ukraine, russian invaders have forcibly displaced hundreds of thousands of Ukrainian citizens, including children. We call on the international community to take decisive action against moscow, in particular to increase sanctions pressure to force it to end its aggression against Ukraine, as well as gross violations of international law.
Rashists in occupied territories are simplifying the procedure for obtaining Russian citizenship for Ukrainian orphans. Comment of the MFA of Ukraine on the decree of the president of the russian federation on simplifying the procedure for obtaining Russian citizenship for Ukrainian orphans says : the decree of the president of the russian federation to simplify the procedure for obtaining russian citizenship for Ukrainian orphans or children left without parental care is regarded as attempt by the Kremlin to legalize the illegal displacement of Ukrainian children to the territory of the russia from Ukraine's territories temporarily occupied by russian forces. By his decree, putin has in fact legalized the abduction of children from Ukraine.
Russia's actions grossly violate the IV Geneva Convention relative to the Protection of Civilian Persons in Time of War, 1949, which obliges the occupying power not to change the civil status of children, and the UN Convention on the Rights of the Child, 1989. Under international law, russia's actions can also be qualified as the forcible transfer of children from one human group to another.
The most serious international crimes against children committed by Russian high-ranking officials and servicemen in Ukraine will be investigated and the perpetrators will be brought to justice. Russia will not be able to avoid the strictest responsibility.
Ukraine will take all possible measures, in particular at the international level, to ensure the protection of the rights and interests of abducted Ukrainian children and their safe return to Ukraine.