Air raid alert! Do you dare to hear how sirens in Ukraine sound right now? Feel at least 1% of the despair that Ukrainians go through every day when they hear this sound. After these moments, they know that destruction and death is coming. In real life, Ukrainians can't just turn off that sound. It can cost them their lives.
This morning the Russian military have fired Kh-101 missiles at the city of Kyiv with Tu-95 and Tu-160 bombers. The relevant statement was made by Spokesperson of the Air Force Command of the Armed Forces of Ukraine Yurii Ihnat during a nationwide telethon, an Ukrinform correspondent reports. "The strategic bombers, Tu-195 and Tu-160, which have been used to fire missiles at Kyiv Region today, are those stationed in the Caspian Sea, Astrakhan. They take off from there. They are equipped with basic missiles and launch them from there. The Kh-101 missile has a range of 5.5 thousand kilometers. Thus, bombers do not necessarily need to enter our airspace. It is enough for them to take off, take a firing track and launch missiles. Four to six missiles have been fired today. In fact, our anti-aircraft defense units reacted, and some missiles were shot down. One missile was confirmed to have been destroyed. The fragments of the other are being searched," Ihnat told.
The head of the President's Office, Andriy Yermak, has said that sanctions against Russia should be tougher, with the need to include a gas embargo in the new EU sanctions package. He wrote this on Telegram. "The G7 summit must respond to Russia's strikes on Kyiv. Sanctions should be more aggressive.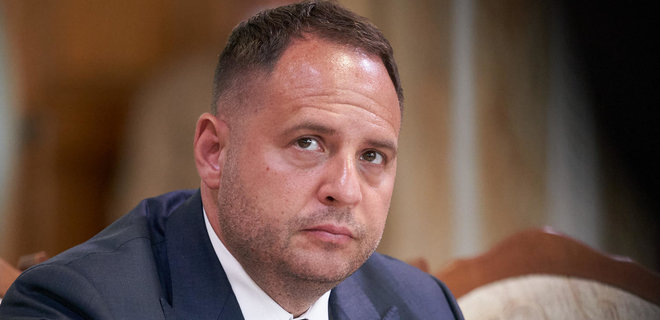 An embargo on gold exports is good, but a gas embargo is needed in the new EU sanctions package," Yermak said. In his opinion, military convoys to unblock Ukrainian ports should be the answer to the food crisis orchestrated by Russia. "Recognition of Russia as a sponsor of terrorism is very necessary," he said. He also reiterated that Ukraine needs more heavy weapons. "More heavy weapons for Ukraine is the way to victory over an enemy who understands only force," Yermak said.
Minister of Foreign Affairs of Ukraine Dmytro Kuleba emphases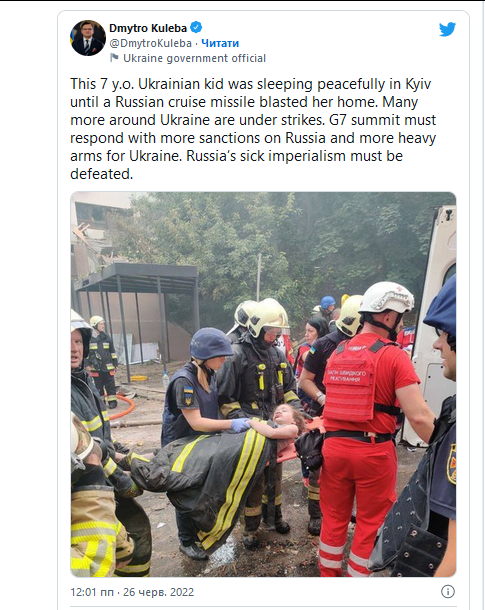 U.S. President Joe Biden has said that Russian missile strikes on the Ukrainian capital on Sunday are another case of Russian barbarism. Biden said this at the summit of the Group of Seven states in Germany on Sunday.
Most of the facts of torture and ill-treatment of the Russian military with civilians were revealed in the Kherson, Kiev and Chernihiv regions.This was announced by Prosecutor General Irina Venediktova. She assured that each such fact is recorded and investigated.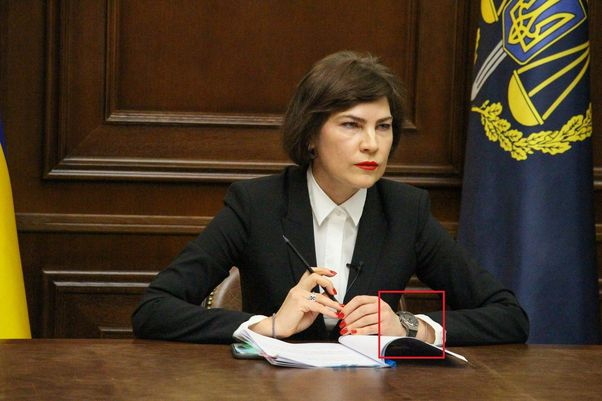 "We are already identifying and bringing to justice the executioners who tortured people, imitated and even carried out their executions," the prosecutor general said. At the same time, she stressed that the task of law enforcement officers is to establish justice for every crime committed during all 8 years of Russian aggression. "Torture is an instrument of war and a way of self-affirmation for the Russian Federation.after a full-scale invasion of Ukraine, the Russian military has made cruelty and suffering synonymous with their behavior on our land. A mixture of aggression, hatred and a maniacal desire to rise above Ukrainians has disastrous consequences," the prosecutor general said. As reported, since the beginning of the full-scale invasion of Ukraine by the Russian Federation, law enforcement officers have registered more than 19.7 thousand crimes of aggression and war crimes. "Russia commits 100-200 war crimes every day. Both prosecutors and investigators identify the pilots who throw bombs, the Gunners who launch shells at our homes, schools and hospitals, and those who give these barbaric orders.",
"The Ukrainian people do not have the luxury to feel fatigued. Nor can the rest of the free world. The evidence of heinous war crimes continues to mount, from the bombardment of innocent Ukrainian civilians to rape, torture and abduction. Russian forces are weaponising global hunger by stopping Ukrainian grain exports and stealing harvests. Russian proxies have breached the Geneva Convention in the way they treat prisoners of war, including British citizens serving in the Ukrainian Armed Forces", the Joint statement of Minister of Foreign Affairs of Ukraine Dmytro Kuleba and Secretary of State for Foreign, Commonwealth and Development Affairs of the United Kingdom Liz Truss.