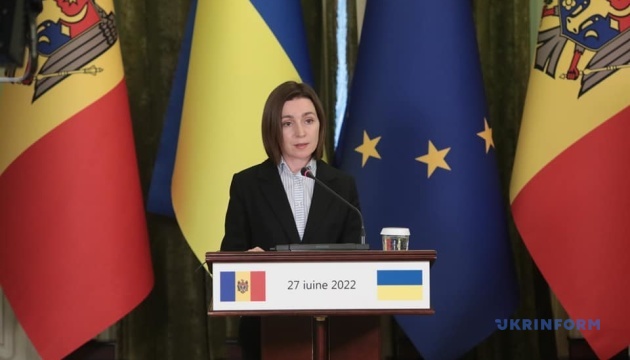 Chisinau doing everything possible not to allow unrecognized Transnistria to threaten Moldova, Ukraine.
This was stated by President of Moldova Maia Sandu, who spoke at a joint press conference with President of Ukraine Volodymyr Zelensky in Kyiv, Ukrinform reports.
"We are closely following all developments in Transnistria and we are seeing no threats looming. We are doing everything we can to prevent this separatist region from posing a threat to Ukraine and Moldova," Sandu said.
The president of Moldova noted that the two countries should maintain constant dialogue on security issues that affect them, adding that she had agreed with Zelensky to work together to maintain stability and avoid provocations aimed at destabilizing the situation.
The leader also noted that the information about the possible general mobilization in Transnistria has not been confirmed yet.
"From time to time, we hear such news, but it hasn't been confirmed yet. We are following the developments in Transnistria very closely. We would like to make sure that there is nothing that could destabilize the situation. Our agencies will continue to further monitor the situation," the president said.
Sandu added that, if something happened that would cause concern, Chisinau would take action and inform its partners.
As Ukrinform reported earlier, Moldovan President Maia Sandu is on a visit to Ukraine on Monday. She has already made a tour of the liberated towns of Irpin, Bucha, and Borodianka.
---
Source: Moldova doing everything to ensure that Transnistria poses no threat - Sandu