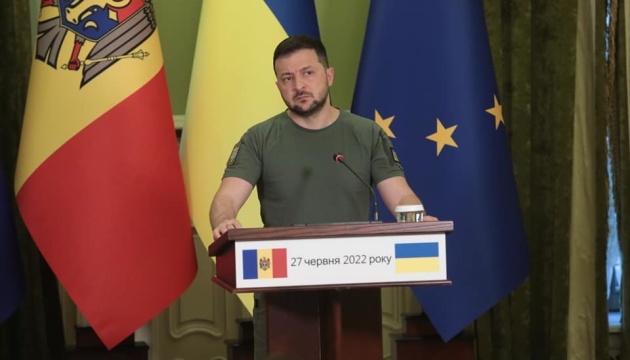 Any action that will threaten Ukraine from Transnistria, the temporarily occupied territory of Moldova, will receive an appropriate response; however regional destabilization should be avoided.
This was stated by President Volodymyr Zelensky of Ukraine, who spoke with reporters in Kyiv following talks with Moldovan President Maia Sandu.
The leader said that at today's meeting with his Moldovan counterpart, the issue was discussed of possible threats from the territories temporarily occupied by Russia.
"If it happens, I think it would be a global mistake. We receive all kinds of signals, and they are quite unpleasant. But people in Transnistria should know: for us it will not be a blow, but a slap. But we will definitely respond with a blow," Volodymyr Zelensky said, answering journalists' questions about whether he had information about a potential attack from the territory of Transnistria.
At the same time, Volodymyr Zelensky stressed the need to maintain stability in the region.
"I believe that first of all, we should all work so that there is no destabilization in the region. We demonstrate this in every possible way. We are currently at war with Russia on our land, although you have seen that there have been repeated missile strikes from Belarus," he said.
The president also noted that the Belarusian people do not support the war against Ukraine, and that it's Russian troops who shoot and attack from the territory of Belarus.
As reported earlier, Maia Sandu said her government is closely monitoring the situation in Transnistria, assuring that, if any threats emerge, the country's partners will be properly informed.
"We would like to make sure there is nothing that could destabilize the situation. Our agencies continue to monitor the situation, and, of course, if anything happens that causes concern, we will take action and inform our partners," said the president of Moldova.
---
Source: Ukraine to respond appropriately to any threats from Transnistria - Zelensky