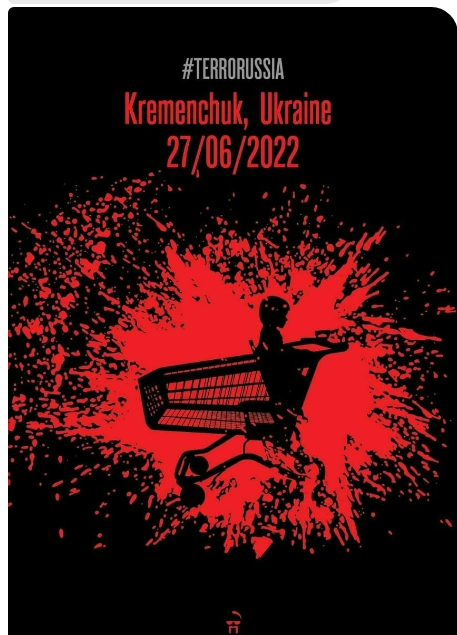 On June 27, 2022, two Russian missiles hit Amstor Shopping Mall in Kremenchuk, Poltava Region, with about 1,000 civilians inside.
A total of 36 people were listed as missing after Russia's missile attack on Amstor Shopping Mall in the city of Kremenchuk, Poltava Region. Currently, 18 people were reported killed. Rescue works are underway.
The relevant statement was made by Poltava Regional Military Administration Head Dmytro Lunin on Telegram,
"Unfortunately, as of now, 18 people were killed in Russia's missile attack. A total of 36 people were listed as missing. We continue rescue works. Those injured are provided with all necessary assistance," Lunin wrote.
Ukrainian President Volodymyr Zelenskiy accused Russia of deliberately targetting civilians in the attack in the city of Kremenchuk in central Ukraine, far from the frontline.
He called it "one of the most defiant terrorist attacks in European history".
Ukraine parliament chair calls on NATO to help country with missile defense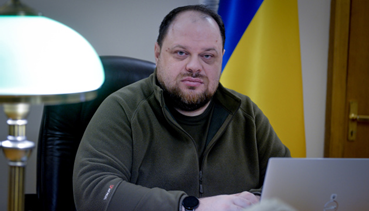 Speaker of the Verkhovna Rada, Ruslan Stefanchuk, is counting on NATO assistance to Ukraine in providing surface-to-air missile systems and a strong Allied response to the latest Russian missile attack on the Kremenchuk shopping mall.Stefanchuk spoke on the air of the national telethon,
"We would all like Russian bombs and missiles to stop destroying our peaceful homes with impunity, killing our civilians. To this end, we need adequate missile defense. I believe NATO Allies could and should provide Ukraine with at least such a basic right to self-defense," the speaker said.
In addition, the Rada Speaker considers it necessary for NATO to deliver a "strong reaction" to the Russian terrorist attack in Kremenchuk on the eve of the summit. "This is a challenge to NATO and I would very much like NATO to provide an adequate response to the Russian Federation, a terrorist state," Stefanchuk said. He added that today, the Armed Forces are selflessly defending not only their people, but all the peoples of the EU and the world in general, from Russian aggression.
"We will never forget this crime," Ukraine's Minister of Interior, Denys Monastyrsky, told reporters after touring the smouldering mall. He said the attacks had clearly targeted civilians since there are no Ukrainian military facilities within five kilometres of the mall.
Photos show mall before 'barbaric' missile strike killed 18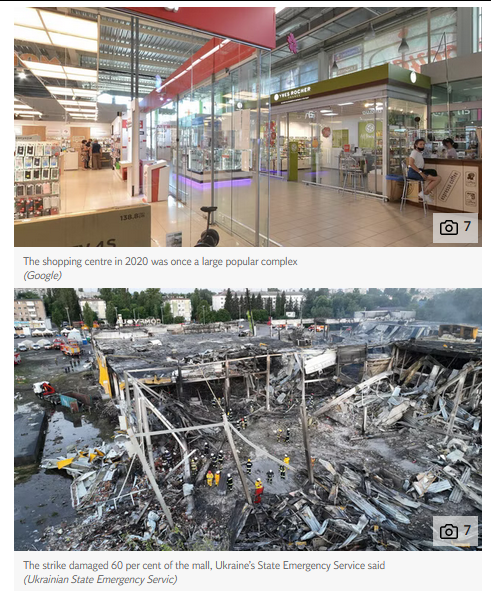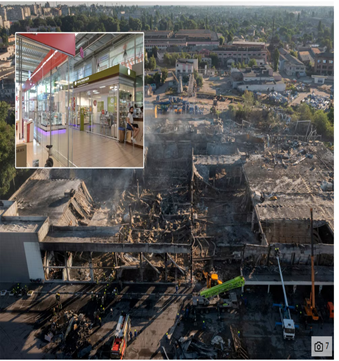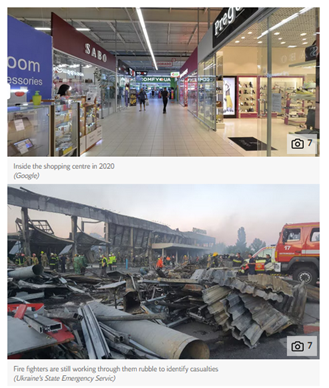 "World leaders sharply condemned the strike. In a joint statement issued late on Monday night, the leaders of the Group of Seven (G7) nations described the strike as a "brutal" and "abominable" attack. "Indiscriminate attacks on innocent civilians constitute a war crime. Russian President [Vladimir] Putin and those responsible will be held to account," read a statement by leaders attending a G7 summit in southern Germany. US Secretary of State Antony Blinken said the world was "horrified" by the missile strike. The office of UN Secretary General Antonio Guterres also said the attack on civilian infrastructure was "totally deplorable."