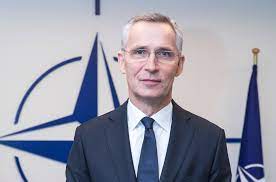 The heads of state and government of NATO member states will adopt a new comprehensive assistance package to Ukraine at the Madrid summit to help the country resist Russian aggression.
NATO Secretary General Jens Stoltenberg said this at a joint press conference with Spanish Prime Minister Pedro Sanchez in Madrid on Monday.
"We will agree a Comprehensive Assistance Package to Ukraine to help them uphold the right for self-defense. It is extremely important that we are ready to continue to provide support because Ukraine now faces brutality which we haven't seen in Europe since the Second World War," Stoltenberg said.
He noted that the Madrid summit would be a pivotal summit as "we will agree a new Strategic Concept, the Madrid Strategic Concept, that will be the blueprint for NATO in a more dangerous and unpredictable world."
"We will agree a fundamental shift of our deterrence and defense with more high readiness forces, with more forward defense, with more pre-positioned equipment. […] And then, we hope to make progress on the accession of Finland and Sweden. And then, of course, we will also state that to be able to defend in a more dangerous world we also need to invest more in our defenses," Stoltenberg said.
Stoltenberg said that the Ukrainian government and people "continue to resist Russia's brutal war of aggression. " "Their courage and commitment are an inspiration. And I welcome that President Zelenskyy will join us at the NATO Summit," the Secretary General stressed.
---
Source: NATO to approve comprehensive assistance package to Ukraine - Stoltenberg