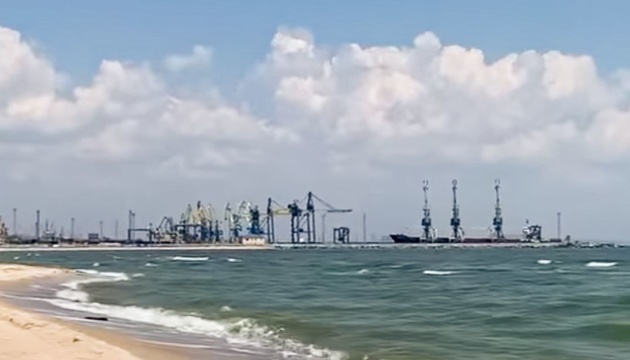 From the port of Mariupol, the invaders carry rolled metal and grain on small river-sea vessels to loading platforms in "neutral" waters off Kerch coast, and then transport cargo farther on through Syria.
Petro Andriushchenko, adviser to the mayor of Mariupol, reported this on Telegram.
"The Mariupol port is preparing for transshipment of stolen grain. A fourth vessel has already been spotted in the port's water area…At the same time, our sources report on the scheme of exporting rolled metal and grain from Mariupol through Syria. Everything stolen by river-sea class small vessels will be taken to transshipment points (de facto large cargo platforms equipped with cranes) anchored in "neutral" waters off the coast of Kerch. There, from these small ships, cargo is loaded onto larger ships bound for Syria," Andriushchenko wrote.
He noted that the stolen goods are further transported to Syria under fictitious paperwork alleging that the ships were loaded in other countries' ports: "in particular, Turkey is mentioned (needs clarification)." The travel time from Mariupol to the platform is about eight hours, which makes it possible to ensure a high pace of transportation.
The mayor's advisor added that the invaders are actually stealing from agricultural holdings and farmers. "Harvesting crops is allowed only to those who are actively collaborating with the Russians, and for others it all boils down to outright blackmail on the condition that they harvest their crops exclusively for covering own needs," Andriushchenko explained.
The main priority of the invaders in Mariupol is the city port on the Sea of Azov. The occupiers are trying to restore operations in the seaport as soon as possible. The main fuel depot for the needs of the Russian military is expected to be set up here. Also, the exports of rolled metal, grain, and coal and the import of fuel and military equipment will be accelerated.
The occupation administrations of the city and port were tasked in the first decade of July to ensure the full restoration of the port. Major exports from Mariupol include scrap metal, grain, and coal, while main imports are primarily fuel and military equipment.
On June 24, the self-styled "prime minister" of the unrecognized "DPR," Vitaly Khotsenko, arrived in Mariupol, ordering that the entire stock of rolled metal be taken out of the city within a month.
Russia's aggression caused one of the biggest humanitarian disasters in Mariupol. The city was almost completely destroyed as a result of enemy shelling and bombing.
---
Source: Stolen rolled metal, grain taken from Mariupol to neutral waters, loaded on Syria-bound ships