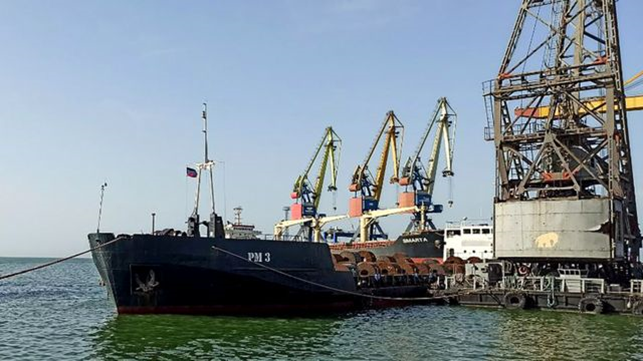 The occupation forces of Russia began to restore the operation of the Mariupol port in order to begin the theft of Ukrainian metal on an industrial scale.
"The first ship entered the Mariupol port to load stolen products on May 28. After that, he made at least three such flights – these are the ones that managed to be tracked with the help of marine location programs, and which can be used as evidence in the framework of a criminal investigation. It is difficult to say how many flights there actually were, because pirate ships of the Russian Federation often turn off the location during passage. For the same reason, it is impossible to trace the passageways of vessels loaded with Ukrainian grain," the publication notes.
In the near future, the theft of metal will increase, journalists warn, because the other day, the adviser to the mayor of Mariupol, Petro Andryushchenko, said that "looting at the state level is at a low start."
"The occupiers have launched a towing crane to clean the shipping channel and the port's water area. Electricity has been supplied separately from the Mariupol district and the port cranes are being launched. In fact, in the first decade, the port will be ready to receive cargo and ship loot through the main deep-sea channel," Andryushchenko said.
As you know, the metal stolen by Russia from the Mariupol port belongs to the Azovstal and MMK plants. Ilyich of Metinvest company. The company has already stated that it has the technical capabilities to track every stolen sheet of metal. And she warned that she was developing several legal mechanisms at once that would make it possible to hold everyone involved in the theft to international criminal responsibility.