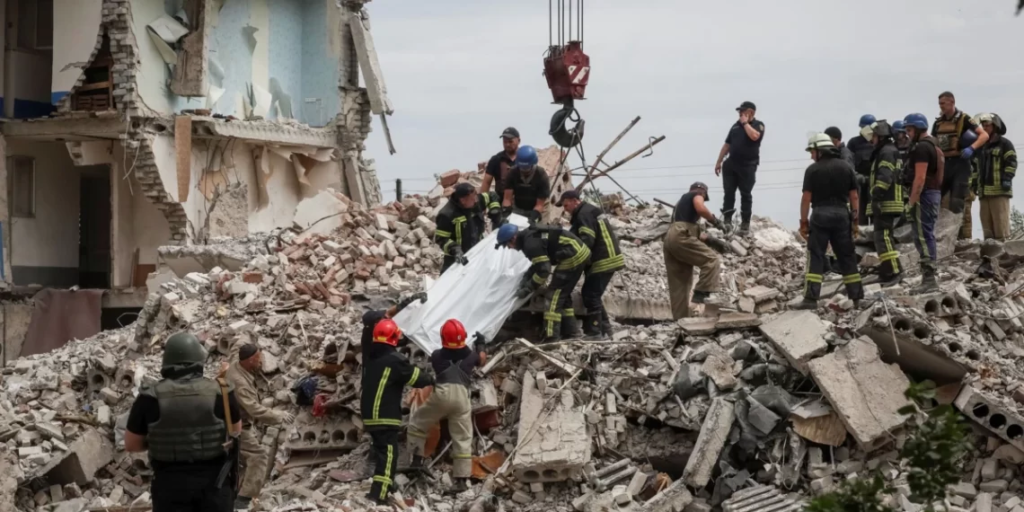 Rescuers removed 43 bodies from under the rubble of a destroyed multi-storey building in the town of Chasov Yar, Donetsk region, including one child. About it informs The main department of the State Emergency Service of Ukraine in the Donetsk region.
According to the agency, nine people were rescued from the rubble. Search work continues.
On the evening of July 9, as a result of a Russian rocket attack on the town of Chasov Yar in the Donetsk region, two residential five-story buildings were destroyed. The head of the Donetsk regional administration, Pavel Kirilenko, reported that the Russian military fired four missiles from Uragan multiple launch rocket systems.
"It was a missile attack. And everyone who gives orders for such attacks, everyone who makes them on our ordinary cities, on residential areas, kills quite deliberately. After such attacks, the killers will not be able to say that they did not know something or that didn't understand," said President of Ukraine Volodymyr Zelensky in a video message.
July 9 Ministry of Defense of the Russian Federation declaredthat in the Chasov Yar area, a hangar with American 155-mm M777 howitzers and up to 30 Ukrainian militants was destroyed by a strike by "high-precision weapons of the Russian Aerospace Forces."
July 11 department reportedthat "high-precision ground-based weapons" in the area of ​​​​the settlement of Chasov Yar destroyed the temporary deployment point of the 118th brigade of the territorial defense of the Armed Forces of Ukraine. "As a result of the strike, more than three hundred nationalists were killed," the report says.
Chasov Yar is located west of the city of Bakhmut, which is now being attacked by Russian troops.