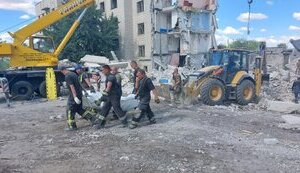 Rescuers discovered the body of another person who died as a result of the shelling of a house in Chasiv Yar, Donetsk region.
The State Emergency Service of the Donetsk region was informed about this
"As of 10:00 a.m. on July 13, the body of 1 dead person was found in a five-story residential building in the city of Chasiv Yar during an investigation.
A total of 47 dead bodies were found, including 1 child, and 9 people were rescued from the rubble. The work is ongoing," the message reads.