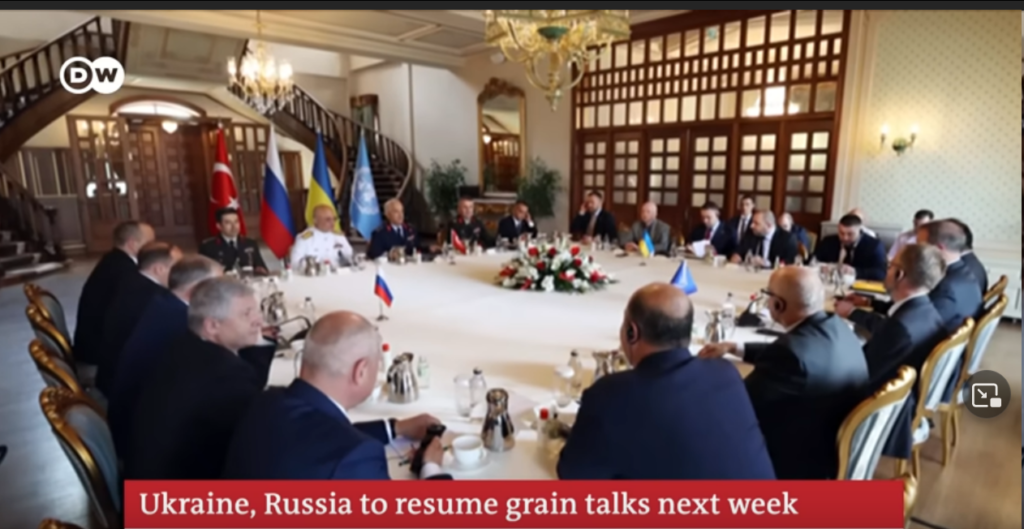 ISTANBUL—Officials from Russia, Ukraine, Turkey, and the United Nations agreed on key aspects of a plan to resume exports of Ukrainian grain through the Black Sea, senior Turkish and U.N. leaders said.
At a meeting in Istanbul, officials from the four parties agreed to establish a coordination center in Istanbul where their representatives would oversee outbound shipments of grain, Turkey's defense minister said.
The understanding is the first concrete breakthrough in weeks of diplomacy led by the U.N. and Turkey aimed at easing a global food crisis triggered by Russia's invasion of Ukraine. The fighting has trapped millions of tons of grain in the country, curbing supplies and raising prices on international markets.
"In a world darkened by global crisis, today at last we have a ray of hope," U.N. Secretary-General António Guterres told reporters in New York. "Today is an important and substantive step, a step on the way to a comprehensive agreement."
Officials said that the talks concluded with an agreement on broad parameters of how grain can again be exported through Ukraine's Black Sea ports, but cautioned that any deal still needs to be signed off by Russian President Vladimir Putin, according to a Western official.
Officials believe this could happen when the Russian leader meets Turkish President Recep Tayyip Erdogan next week in Tehran.
Under the broad agreement reached Wednesday, grain could ship from three Ukrainian ports in convoys escorted by Ukrainian vessels, with a cease-fire to protect vessels within geographical limits and some minesweeping, a person familiar with the talks said.
The Turkish navy would inspect empty ships arriving at Ukrainian ports to address concerns from Russia that the vessels could be used to transport Western arms to Kyiv's forces. The U.N. will establish a command and control center in Istanbul to monitor threat levels to the shipping.
Technical details remain to be ironed out, including how mines laid around Ukrainian ports will be cleared, the person familiar with the talks said. Ukraine had originally told the U.N. that a safe passage could be charted through their minefields, but so-called floating mines will also have to be cleared, the Western official said.
"The most important thing is, we still need a green light from Putin," the official said.
A person familiar with the talks said an agreement could be signed in the coming days after some technical details are ironed out, but cautioned, "It would be wrong to say an agreement is imminent."
U.N. and Turkish officials have been spearheading the talks, which are aimed at delivering Ukrainian wheat and other essential food products to the international market.
Wednesday's talks were expected to address some of the technical aspects of the possible grain corridor. Ukraine, meanwhile, is making some progress on export routes that don't rely on its Black Sea port, though officials and farmers say the route being negotiated on Wednesday is crucial.
Ukrainian Foreign Minister Dmytro Kuleba said in an interview with Spain's El Pais newspaper published on Wednesday that Ukraine and Russia were currently "two steps away" from an agreement on the grain corridor. He has said in recent weeks that the two sides must negotiate the full details of any agreement and that the U.N. has a plan "in principle" to establish a grain corridor.
Previous attempts to secure a deal on a Black Sea grain corridor have failed in part because Ukraine is reluctant to remove sea mines it says are crucial to defend against a possible Russian naval attack.

Ukrainian leaders are demanding security guarantees in return for removing any of their mines and have said that they simply can't trust Russia not to attack following the full-scale invasion that began in February.
Yoruk Isik, an Istanbul-based maritime expert tracking the talks, said at least a couple of weeks of demining would be needed before a corridor could open and minesweepers would be needed to work around the clock on the corridor. He said one solution to Ukraine's security concerns would be to station a Turkish or Romanian warship near the port city of Odessa.
Officials must negotiate a set of challenges, including securing ships from remaining mines and insuring commercial ships navigating the Black Sea. Turkey also has proposed an operations center in Istanbul to oversee the grain corridor. Officials from Russia and Ukraine would need to negotiate the staffing and functioning of the proposed center.
"The strong position of our military in the Black Sea will allow the return of safe navigation of ships," Andriy Yermak, Ukrainian President Volodymyr Zelensky's chief of staff, said in a statement Tuesday.
The Russian delegation to the talks "submitted for consideration a package of proposals for the fastest possible practical solution to this issue," said Russian Defense Ministry spokesman Lt. Gen. Igor Konashenkov, according to the Russian state news agency TASS. He didn't provide details about the proposals.
Wednesday's meeting is the result of weeks of diplomacy by Turkish, U.N. and Western officials aimed at pushing an agreement forward. Turkish President Recep Tayyip Erdogan personally raised the grain issue with the presidents of Ukraine and Russia in separate phone calls on Monday, Mr. Erdogan's office said.
The stakes of the negotiations are vast, since Russia's attack on Ukraine has already driven up the global cost of food, heaping pressure on poorer nations. Along with blockading six of Ukraine's 18 ports, Russia has bombed Ukraine's grain terminals, bridges and other key infrastructure needed to export food to the world.
More than 95% of Ukraine's grain used to be exported through the Black Sea. With that route choked off, the country is exporting less than one-third of what it usually would, through its borders with the European Union and through barges on the Danube that unload onto ships in the Romanian port of Constanta.
With so much grain left in the country, and a further 30 million metric tons of barley, wheat and other produce expected from the current harvest, Ukraine is running out of places to store its crops. Without proper storage, some of these crops could be lost to rot or insects.
While grain prices have fallen from the levels they reached after Moscow's invasion, more Ukrainian supplies would bring prices down further at a time of rampant food inflation and acute shortages in parts of the developing world.
Meanwhile, the pace of border processing has increased, enabling Ukraine to export more overland. The country exported two million metric tons of grains in June, below the five to six million tons a month it could send out before to the war but above the 1.5 million in May.