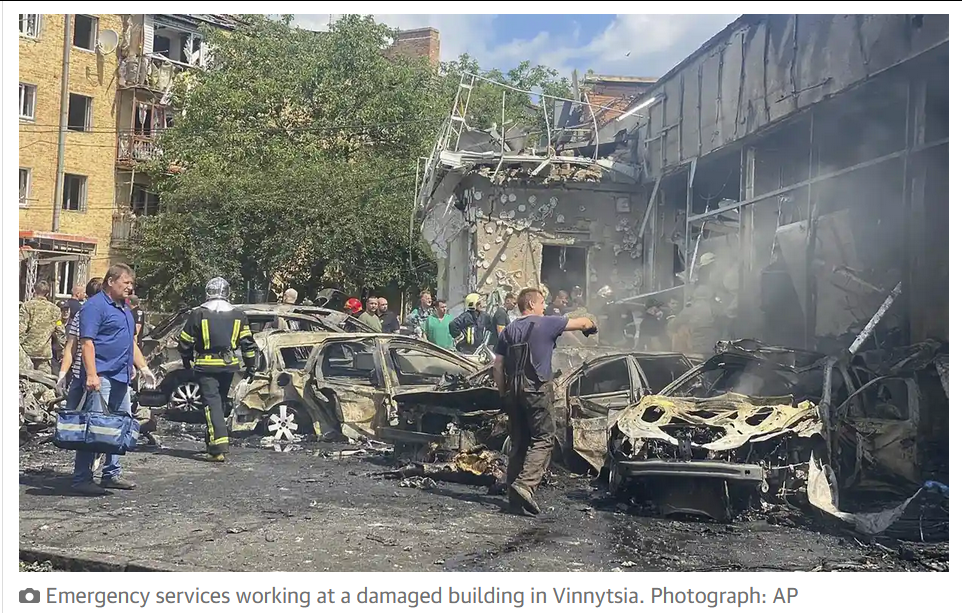 Russian missiles have struck civilian buildings and a cultural centre in the city of Vinnytsia, in central Ukraine, killing at least 20 people – including three children – and wounding up to 50 others in what President Volodymyr Zelenskiy called "an open act of terrorism".
In a video address to an international conference aimed at prosecuting war crimes in Ukraine, Zelenskiy said:
Today in the morning, Russian missiles hit our city of Vinnytsia, an ordinary, peaceful city. Cruise missiles hit two community facilities, houses were destroyed, a medical centre was destroyed, the cars and trams were on fire.

This is the act of Russian terror … 20 people died as of now.
Kyrylo Tymoshenko, deputy head of the Ukrainian presidential office, also said at least 20 people died in the attack. The attack was carried out with Russian Kalibr cruise missiles launched from submarines stationed in the Black Sea, Tymoshenko added.