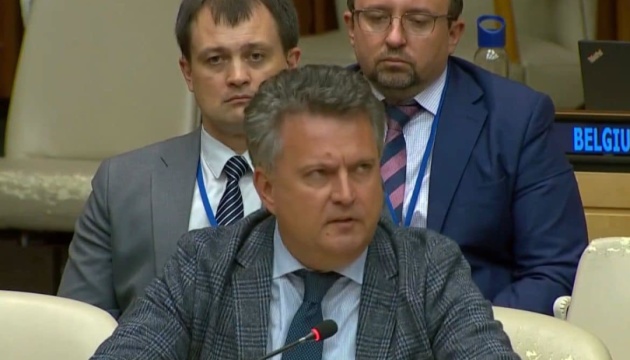 Ukraine will build upon the "legacy of Nuremberg" to punish Russian war criminals.
Sergiy Kyslytsya, Permanent Representative of Ukraine to the UN, made a corresponding statement at the Arria-formula meeting on the destruction of cultural heritage as a consequence of the Russian aggression against Ukraine on July 15.
Kyslytsia noted that Ukrainian cultural heritage remains under threat as a deliberate target of the Russian war
The motives of Putin and his henchmen are clear and simple, Kyslytsya explained: "If you are going to destroy the national identity you should deprive the people of their culture, in particular by destroying their heritage sites."
The diplomat noted that crimes against culture had taken a special place at the Nuremberg trials, included in the group dealing with material damage.
The Russian Federation began to destroy the Ukrainian cultural heritage in Crimea immediately after the occupation, Kyslytsya emphasized. "Russia's full-scale invasion of Ukraine has led to further consolidation of the practices of cultural genocide. No-one responsible should go unpunished," he said, recalling the statement by the President of Ukraine regarding the need to create a special tribunal regarding Russian aggression against Ukraine. This tribunal should become a tool "to ensure the fair and lawful punishment of those who launched the chain of tragedies and disasters – the biggest since the Second World War," Ukraine's Permanent Representative added.
"We will build upon the legacy of Nuremberg, which remains relevant, although requires development and adjustment to the current realities," noted the diplomat, expressing his conviction that Ukraine now serves as a "shield against modern-day barbaric tribes."
He also pointed out that a representative of the aggressor state, Ambassador Kuznetsov, chaired the Bureau of the World Heritage Committee of UNESCO.
"Moral is at rock bottom, isn't it? Welcome to the absurd and contradictory world of the United Nations!" Kyslytsya noted.
In this way, the followers of the Nazi public enlightenment and propaganda minister Goebbels and his henchmen from Reich Chamber of Culture "continue scandalously to sit in the Chair of UNESCO World Heritage Committee!"
The Arria-formula meeting on the destruction of cultural heritage as a consequence of the Russian aggression against Ukraine was held at the UN Security Council on July 15, organized by the Permanent Mission of Albania which presides over the UN Security Council in July, in cooperation with the delegations of Ukraine and Poland.
ol
---
Source: Kyslytsya on punishment of Russia: We'll build upon legacy of Nuremberg