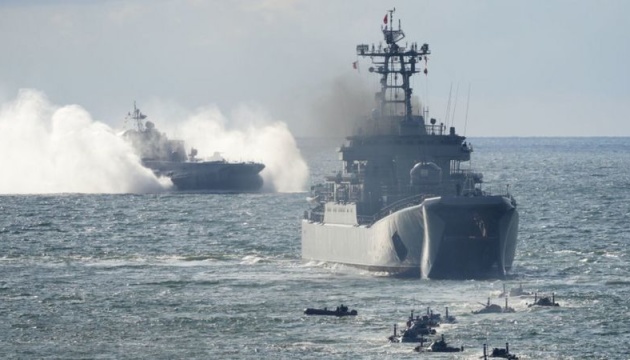 In the Black Sea, the ship group of the enemy forces now consists of two missile carriers and one large landing ship.
"The situation in the southern operational zone is difficult but controlled. The enemy continues carrying out defensive operations, setting up new retreat lines. At night, a massive rocket attack was launched on Mykolaiv, according to preliminary information, with S-300 anti-aircraft missile systems equipped with modified shells of increased destructive effect. Several neighborhoods of the city were shelled. As a result, large-scale fires broke out at two industrial enterprises. Information about the extent of destruction and casualties is being clarified," the press service of the Operational Command "South" posted on Facebook, informing about the operational situation in the south of Ukraine as of 15:00.
In addition, fields were on fire in Bashtanka district due to the evening shelling of Inhulka community. According to preliminary information, there are no casualties. Shelling of villages along the contact line continues in Bereznehuvate community. Data on casualties and damage are being verified.
According to the press service, the units of Russian troops massively change their deployment points in Kherson region, trying to hide behind the civilian population. Part of the buildings where the ruscists used to be based have been abandoned. They now choose new deployment locations in densely populated residential areas, hoping that the Defense Forces of Ukraine will not launch strikes that could threaten local residents.
In addition, despite the fact that the stormy weather in the north-western part of the Black Sea has subsided, two Russian missile ships and one large amphibious ship are stationed there.
Trying to create the illusion of control of Snake Island, the enemy continues periodic attacks. At night, a pair of Su-24 bombers struck the remnants of enemy equipment on the island again. There are no losses among the Ukrainian defenders.
The Operational Command "South" noted that the enemy continues to put fire and psychological pressure on the Ukrainian troops and residents of the southern region. The threat of rocket attacks and artillery shelling along the contact line and into deep rear areas remains highly probable.
ol
---
Source: Russia's enemy landing ship, two Kalibr missile carriers stationed in Black Sea