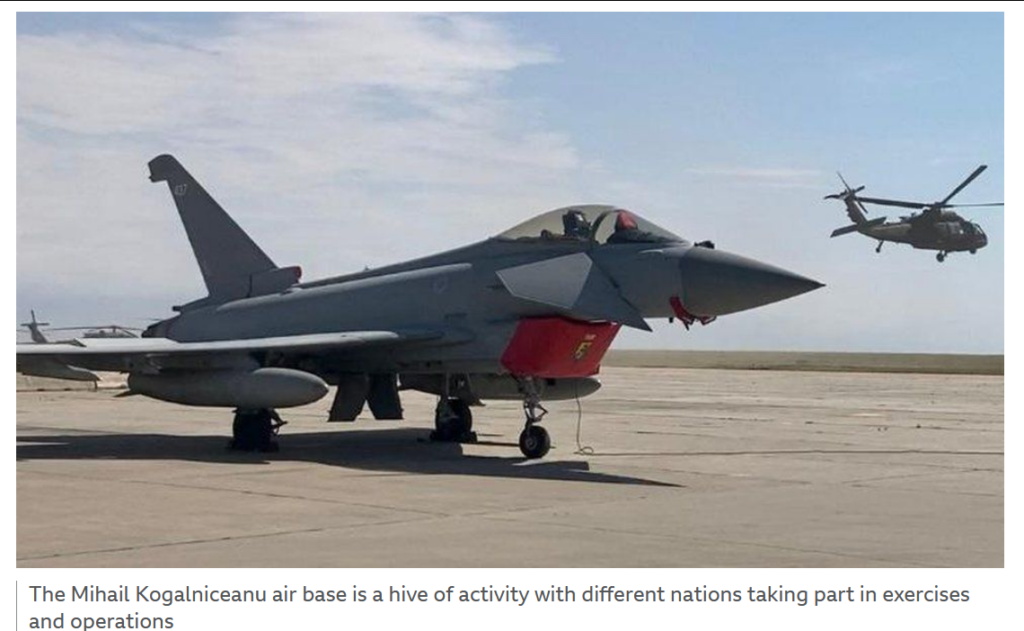 The Royal Air Force plays a leading role not only in the defence of the UK but also supporting allies and alliances around the world. Personnel from bases across Lincolnshire are currently in Romania as part of NATO efforts to reassure countries after Russia's invasion of Ukraine. BBC Look North's Phillip Norton went to find out what life is like on deployment.
It's hard to comprehend the level of responsibility resting on the shoulders of Flt Lt Lewis Travers – one wrong move at the controls of his fully-armed Typhoon jet could have major international consequences.
The 31-year-old is one of 200 RAF personnel taking part in a Nato mission to police skies across Eastern Europe in the face of Russian aggression.
"What we focus on primarily is being utterly professional in the way we conduct ourselves – to ensure there's no risk of misunderstanding or miscalculation," he calmly explains.
Based at the Mihail Kogalniceanu air base near Constanta in Romania, it's just 70 miles from the border with Ukraine, right next to the Black Sea, and currently home to six Typhoon fighter jets from RAF Coningsby in Lincolnshire.
RAF plane and helicopter
Image caption,
The Mihail Kogalniceanu air base is a hive of activity with different nations taking part in exercises and operations
Known as Operation Biloxi, the mission is part of a Nato commitment to protect and reassure member states in Eastern Europe amid Russia's invasion of Ukraine.
As we pass through various security checkpoints and wire fencing, our first glimpse of 3(F) Squadron is accompanied by the thunderous sound of two US Army Black Hawk helicopters lifting off in a furious cloud of dust. It's like walking straight into a war movie, except this is a daily reality for everyone based here.
"The area we routinely operate in is not at all far from Snake Island. Being able to see the fighting going on between Russia and Ukraine has certainly been eye-opening for us.
"Clearly we're not directly involved in the conflict, but it's very close to home and Nato territory," Flt Lt Travers tells me.
"The Typhoon is very much designed as a deterrent, to deter Russian aggression and I think we are doing that."
While British air crews have been carrying out air policing deployments here since 2017, at the request of the Romanian government and as part of UK Nato commitments, Vladimir Putin's invasion of neighbouring Ukraine in February changed everything.
Patrolling the Nato eastern flank, the role of the Typhoon jets is to send the strongest possible message to Russia.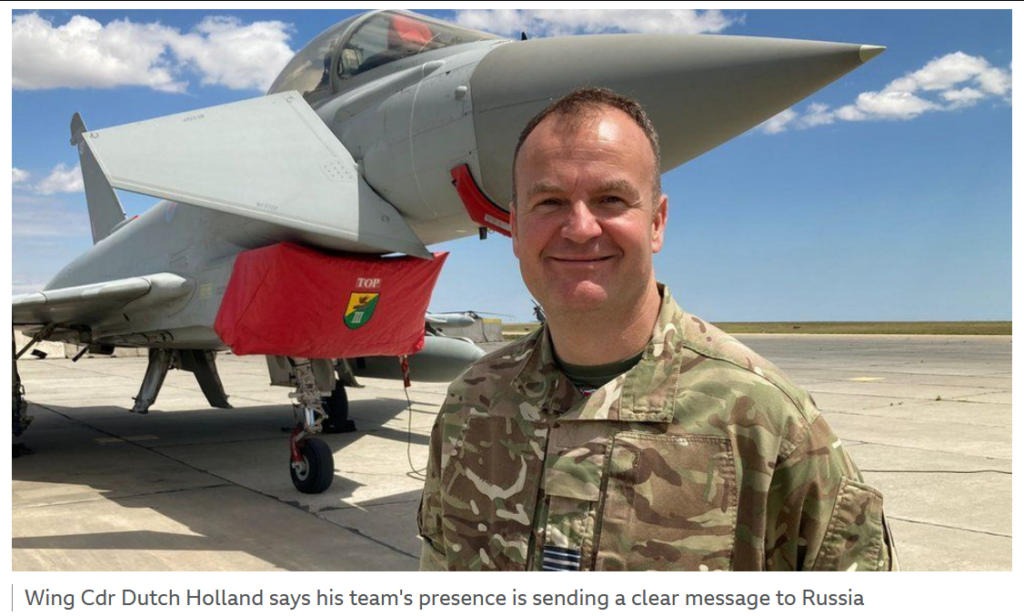 "We're providing an airborne deterrence – working alongside our Nato partners, making sure that we as an organisation are very, very strong, prepared and act as required," says Wing Cdr Dutch Holland, the 45-year-old in charge of the whole operation.
"There's always been Russian activity in this area, but the levels of activity are higher. We've had times where our Quick Reaction Alert has launched up to three times in one day.
"I think the message is incredibly clear to Russia at the moment – that Nato is here, it's here en-masse and it's here ready and prepared."
As we move around the air base, that is clear to see. Row upon row of American armoured vehicles and heavy machinery are positioned around the sprawling camp, which is now home to around 3,000 US troops.
But with Russian bombs and missiles continuing to fall on Ukraine just over the horizon from the runway here, the efforts of the RAF are appreciated by those it's here to protect.
"But we are so, so grateful. We are part of Nato, and I think this is the reason why we are able to sleep at night."