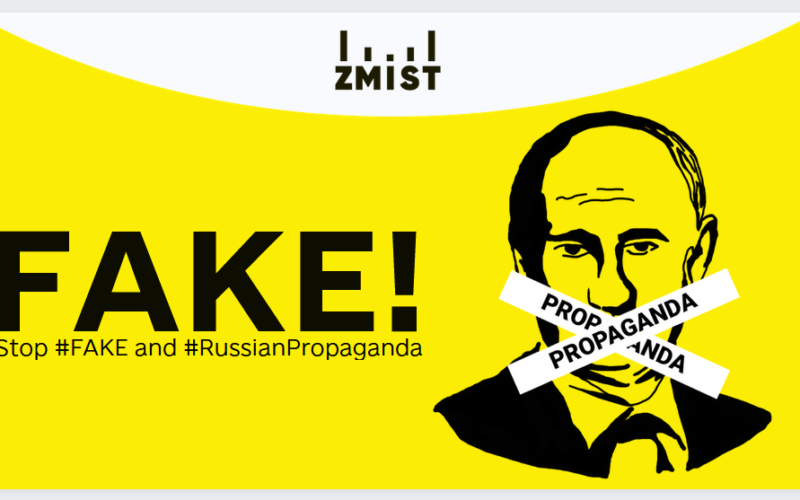 Millions of Ukrainians are encountering russian propaganda every day. It spreads through TV, radio, mass media, social networks, and word of mouth. To defeat the enemy, we must fight it on all fronts. To this end, we have prepared a daily compilation of russian fakes.
FAKE: US scientists turned Ukrainian soldiers into monsters
Source: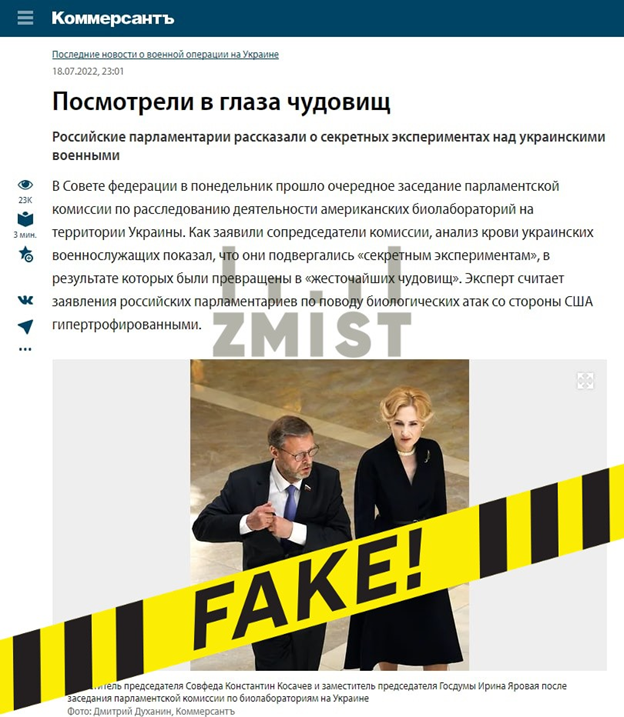 Disproof:
Kremlin never stops delivering quality fiction. This time they came up with a fake that is straight out of a bad sci-fi horror novel.
The russian Federation Council discussed new "evidence" they invented about the non-existent US bio-weapon laboratories in Ukraine. Apparently, by testing the blood of Ukrainian soldiers, russians determined that US scientists were conducting secret experiments on Ukrainians, turning them into cruel monsters. Darth Vader and Sauron were probably also mentioned at some points in the report.
So, to sum up, russians are fighting a drugged-out army of cowardly gay pagan Nazi supersoldiers, who worship Satan, cast dark magic, and use birds to infect russians with American diseases. No wonder russia is losing.
FAKE: The Armed Forces of Ukraine planted a bomb on a bus stop in the occupied Enerhodar
Source: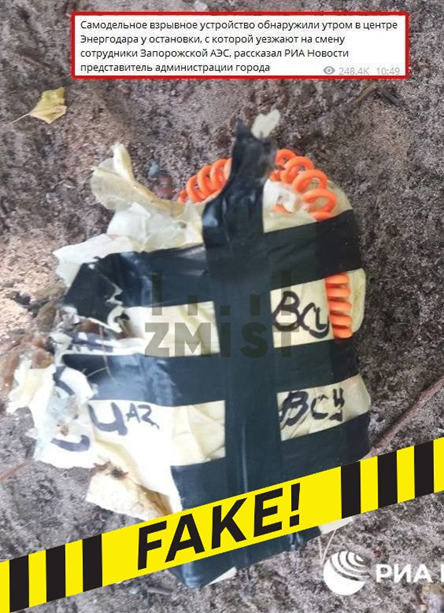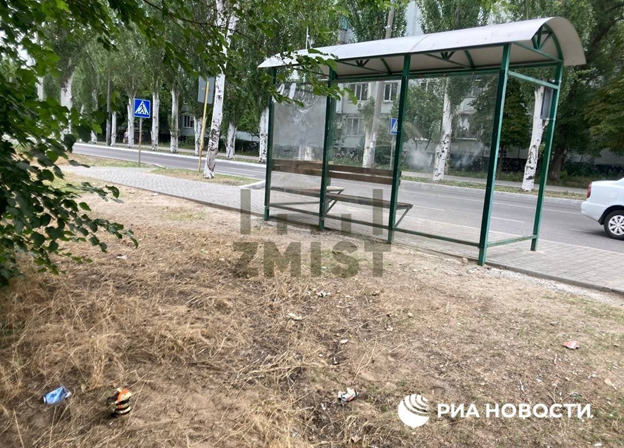 Disproof:
russian propaganda reports yet another dastardly deed by the Ukrainian military, miraculously prevented by the "heroic russian liberators". A horrible terrorist act was supposedly prevented in the occupied city of Enerhodar, and here is the proof: a white plastic package, conveniently marked with the russian abbreviation of "Armed Forces of Ukraine", with an orange telephone cable attached to it, placed in the open near a strategically important object – a regular bus stop.
This is what russian propaganda uses to "offset" the atrocities that russia commits in Ukraine. And they are not even trying to make these fake believable, knowing that their audience, zombified by years of nonsense, will believe anything shown on TV.
Be advised: russia is waging a full-scale information war against Ukraine. There are multitudes of new fakes swarming through the mass media every day. To protect you and your family, be sure to obtain and share your information only from official sources.
Official information channels:
· Office of the President of Ukraine
· General Staff of Ukrainian Armed Forces
· Cabinet of Ministers of Ukraine
· Ministry of Defense of Ukraine
· Chief Directorate of Intelligence of the Ministry of Defense of Ukraine
· Ministry of Internal Affairs
· State Emergency Service of Ukraine
· State Border Guard Service of Ukraine
· Centre for Strategic Communication
· Centre for Disinformation Resistance
· State Special Communications Service of Ukraine
Information about transportation and infrastructure:
· State Agency of Automobile Roads of Ukraine
· Boryspil International Airport"
· Ukrainian Sea Ports Authority
· Danylo Halytskyi International Airport Lviv
· State Service of Ukraine for Transport Safety
Keep calm and trust only official sources. Ukraine will prevail!
The material was prepared by ZMiST. Please follow ZMiST on Twitter and Facebook.