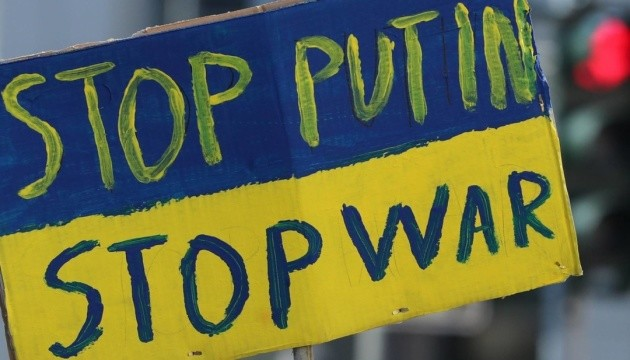 Ukraine—Russia launched a missile attack on Ukraine's key grain-exporting port of Odessa hours after signing an international agreement to lift its blockade of the Black Sea coastline and allow for the transport of grain and other foodstuffs necessary to alleviate a looming global food crisis.
The attack on Odessa appeared to violate the terms of the United Nations-brokered agreement signed by Russia and Ukraine in Istanbul on Friday, which stipulated that both countries would refrain from attacking port facilities or civilian ships used for grain transport.
"The Secretary-General unequivocally condemns the reports of strikes that were carried out today on the Ukrainian port of Odesa. Yesterday, all parties made clear commitments on the world stage to ensure the safe movement of Ukrainian grain and related goods to world markets. These products are extremely necessary to overcome the global food crisis and alleviate the suffering of millions of people who need help around the world," the press secretary of the UN Secretary General said in a statement.
Josep Borrell made a statement: EU strongly condemned russia missile strike…It demonstrates again that russia is total disregard for international low and commitments.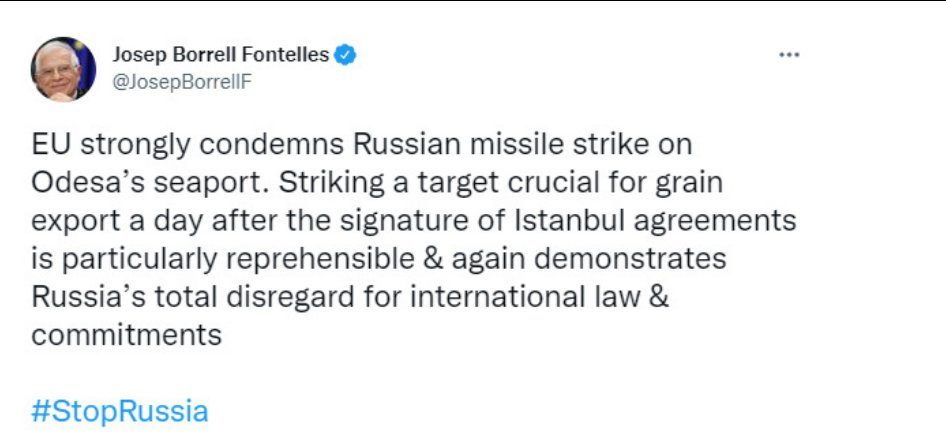 At least two Russian Kalibr cruise missiles hit Odessa, the only major Ukrainian port resisting Russian occupation, damaging infrastructure at the site, Ukraine officials said. Another two of the missiles, which Russia has been launching from warships and submarines, were shot down by aerial defenses, officials said.
A railcar discharging point and a warehouse used for loading grain were destroyed in the attack, according to international
The target of the strike was likely a nearby shipbuilding yard, workers at the port said.
"It's obvious that the agreement with Russia is not even worth the paper it was signed on…Russia is a terrorist state," said Ukraine's ambassador to Turkey, Vasyl Bodnar, who was present at the signing of the agreement.
Ukrainian Foreign Ministry spokesman Oleg Nikolenko said the attack on Odessa was like spitting in the face of the U.N. and Turkey, which facilitated and hosted the negotiations.
"We urge the U.N. and Turkey to ensure Russia's compliance with its obligations to provide a safe corridor for the grain exports," Mr. Nikolenko said in a statement posted to Facebook.