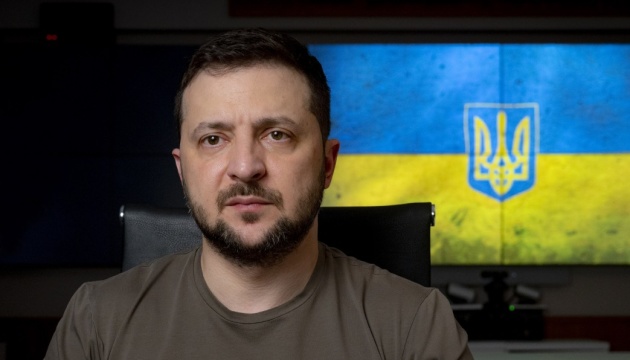 President Volodymyr Zelensky has emphasized that the war will not break Ukraine and will not stop life in the country, therefore, we must talk about the restoration of the country now.
"The war has not broken Ukraine and will not break it, it has not stopped life in our country and will not stop it, it will certainly not make us hostages to the horrors that the invaders brought to our beautiful, peaceful, and strong state," Zelensky said during the opening ceremony of the 2nd international Summit of First Ladies and Gentlemen in Kyiv, an Ukrinform correspondent reports.
He added that the main topic of the Summit is the post-war recovery of Ukraine and the human dimension of this recovery.
"Why are we talking about reconstruction now, when the war is not yet over? So that on the first day of peace we can already feel it in full, so that there will already be a systematic reconstruction of everything that was destroyed by the Russian army, so that there will already be security guarantees for our people, so that people will already know where and how they can return if they went abroad, fleeing hostilities," the President emphasized.
It is also necessary to talk about restoration, the President noted, so that when the peace is established, the healthcare system restores its powerful potential, so that parents do not have any unanswered questions about education for their children, so that people know for sure that there are jobs for them in Ukraine, there is a choice of how to express yourself, and so that all veterans who went through the hell of battles really feel the gratitude of our state.
As reported, the 2nd international Summit of First Ladies and Gentlemen: "Ukraine and the World: The Future We (Re)Build Together" is held on Saturday, July 23, on the initiative of First Lady of Ukraine Olena Zelenska.
Celebrities, leading world experts, and high-ranking persons are invited to participate in the event, and the summit will be broadcast in more than 20 countries of the world.
Participants may take part in the event directly at the venue and online. In particular, First Lady of Latvia Andra Apine-Levite and First Lady of Lithuania Diana Nausėdienė arrived in Kyiv.
In addition, world-famous celebrities already confirmed their participation in the summit: UNICEF Goodwill Ambassador David Beckham, famous actors Richard Gere, Ashton Kutcher and Mila Kunis, journalist Piers Morgan, and others.
ol
---
Source: Zelensky: War will not stop life in Ukraine or make us hostages to horrors it has brought