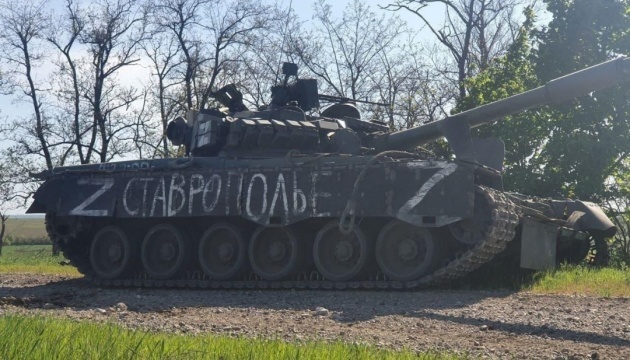 Enemy forces on Monday carried out airstrikes near Soledar, Pokrovske and New York in the Donetsk region and on the territory of the Vuhlehirsk thermal power plant.
According to Ukrinform, the General Staff of the Armed Forces of Ukraine said this in a Facebook post.
According to operational information as of 18:00, enemy forces were conducting assault operations in the Klynove-Pokrovske and Volodymyrivka-Pokrovske directions, but suffered losses and retreated. In the area of the Vuhlehirsk thermal power plant, individual enemy units achieved partial gains.
On the Bakhmut axis, enemy shelling was recorded in the areas of the settlements of New York, Novoluhanske, Kodema, Berestove, Bilohorivka, Ivanivske, Soledar, Mayorsk, Bakhmutske, Pokrovske, Yakovlivka, Kurdiumivka, Bakhmut, Vesela Dolyna, Zaitseve, and Travneve.
In the Volyn and Polissia directions, the situation remains unchanged. The units of the Belarusian armed forces continue to carry out the tasks of strengthening security in the border areas of the Brest and Gomel regions, and are also involved in combat training activities at military training grounds.
In the Siversky (northeastern) direction, in order to demonstrate the presence and constrain the actions of Ukrainian troops, the enemy continues to hold separate units of the Russian armed forces in the border areas of the Bryansk and Kursk regions. The enemy shelled the areas of Mykhalchyna Sloboda in the Chernihiv region, as well as Pisky, Riasne and Bilopillia in the Sumy region, using guns and MLRS.
In the Kharkiv direction, the enemy used tanks, howitzers and MLRS in the vicinity of Kharkiv, Udy, Verkhnii Saltiv, Malynivka, Borshchova and many other settlements. Airstrikes were launched near Prudianka and Petrivka. In the Tsupivka – Dementiivka direction, Ukrainian soldiers inflicted significant losses on the occupiers.
In the Sloviansk direction, shelling was recorded in the areas of the settlements of Nortsivka, Bohorodychne, Petrivske, Adamivka, Pryvillia, Barvinkove, Kostiantynivka, Nova Dmytrivka, Dolyna, Nova Mykolaivka, Karnaukhivka, Dibrovne, Chepil, Hrushuvaha, and Mazanivka. The enemy launched an air strike near Yavirske. The invaders are trying to replenish the losses in manpower and equipment.
In the Kramatorsk direction, the enemy shelled the areas of Kryva Luka, Platonivka, Zakitne, Siversk, Verkhniokamianske, Zvanivka, Hryhorivka, Ivano-Darivka, and Spirne using guns and MLRS. Aircraft were used near Hryhorivka and Serebryanka. Enemy forces attempted to advance near Spirne and Ivano-Dariivka but received a strong rebuff and left.
"The enemy's personnel is demoralized. The Russian command in some directions is using manpower for attacks without support from armored vehicles. In this way, the officers keep the equipment in working order and try to take revenge on their subordinates for deliberately disabling the weapons. A similar practice of sabotage is widespread among the privates of the occupiers in order not to participate in combat clashes with Ukrainian soldiers," the General Staff said.
---
Source: Enemy continues assault on Vuhlehirsk thermal power plant