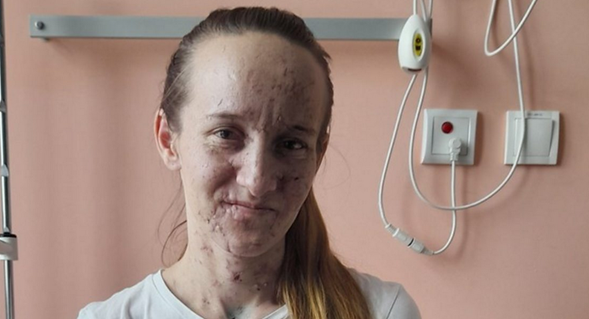 The russian attacks have been killing and mutilating Ukrainians on Ukraine cities far from frontline. Russian has thus been showing its attitude to international law, to Europe, and to the entire civilised world.
"Every day, Russia kills civilians, kills Ukrainian children, carries out missile attacks on the civilian facilities where there is no military target. What is this, if not an open act of terrorism?" Mr Zelensky said in a statement on social media.
Early on in Russia's attack of Ukraine, a rocket landed on home in the city of Severodonetsk in the eastern Donbas region, where the boys and their mum, Olena Sielihzjanova, were blinded and suffered facial injuries. They were pulled out of their building and then under tight security made the perilous 1,300km (800 miles) journey across Ukraine to Lviv.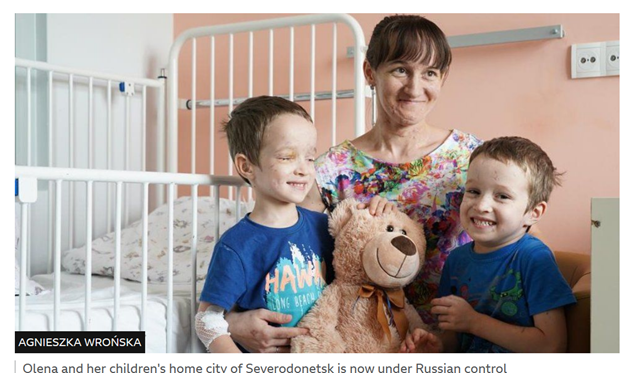 For the boys and their mum, blinded and suffered facial injuries by russian rocket attacks, given sight back settle into Polish life. There, eye specialist Dr Nataliya Preys recognised the gravity of their condition and organised an ambulance to take them to her former professor in Lublin, Poland's leading eye surgeon Robert Rejdak, for immediate treatment. The family were extremely vulnerable but Olena wanted her story to be told. So I and my team – producer Rebecca Hartmann and camera operator Paul Cooper – spent a long time gaining the twins' trust. I have since kept in touch and followed their long and complicated recovery.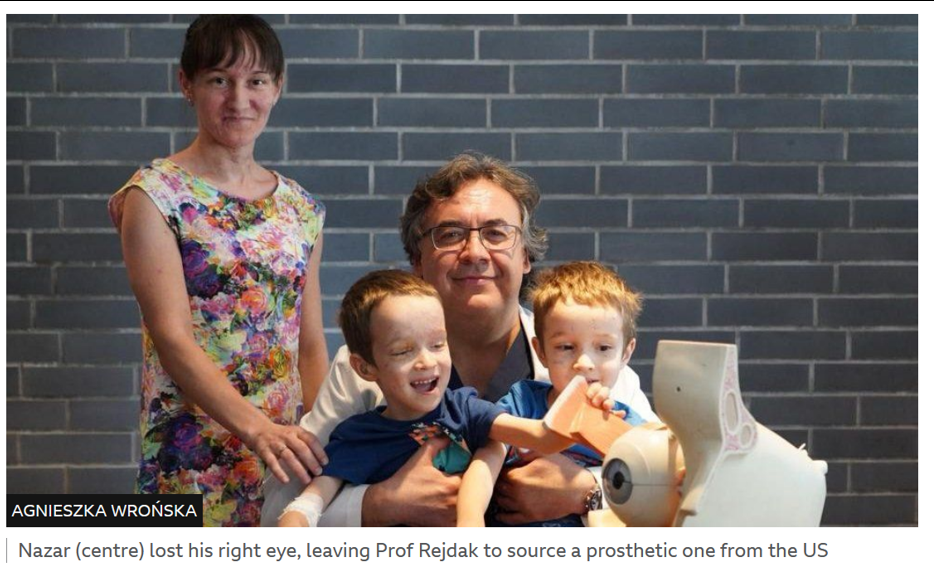 Nazar and Timur have had several surgeries to try to save their sight. "The boys are doing well," Olena tells me. "You can still see the scars from the shrapnel but they are very lively – quite a handful in fact! They love to play with other children.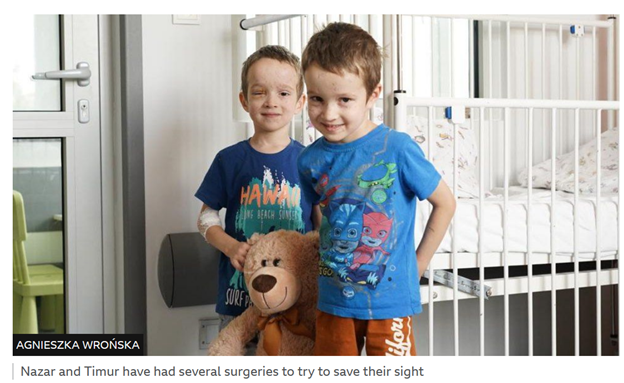 "They are making friends relatively easily and are becoming more trustful. This gives me hope that we will be able to deal with our difficult experience. I have to rely on this." As well as psychological support, the family has received practical help from the city of Lublin which has provided accommodation and a living allowance.
The prosthetic eye was critical to stop Nazar's face from deforming as he grows, the doctor says. Nazar's left eye was also operated on and now it has perfect vision. Timur, the shyer of the two, also needed surgery on both eyes. Although his right eye was saved it was very badly damaged and it currently has only 10% visual acuity. His left eye had post-traumatic cataract complications and has 60% visual acuity. He needs glasses but Prof Rejdak believes his sight will improve to the point that he will no longer need them when he is older. Olena, who had a shard of glass removed from her eye by Prof Rejdak, now has full vision. Her broken leg has healed, she had a number of teeth extracted after they were damaged in the explosion and will be offered plastic surgery for the scars on her face and neck. She took the full force of the blast as she protected her sons with her body.
The family's traumatic experience has created a path for many others who have suffered eye injuries in the Ukraine war to travel to the Medical University of Lublin for treatment.
Olena and her children's home city of Severodonetsk is now under Russian control. At the forefront is a new telemedicine project involving high-grade cameras that enable doctors in Ukraine to film injuries, even during power cuts, and send the video to specialists in Poland who can advise what treatment is needed, and even guide operations remotely. So Olena and her little boys' sight-saving journey has inspired hope, albeit at a high personal cost and a lot of uncertainty.
One thing she was adamant about, even in April, was that she would not take her family back to Severodonetsk. Now this key Ukrainian city is under full Russian occupation, that is no longer a real option.
The new reality is that for the past two months Olena has completely lost contact with her parents. All communications with the city have stopped. All she can do is hope they are still alive and that this war will end.
Let's face it, criminal orders were formed by the russian highest military (political) leadership and issued along the entire vertical military subordinate.