Ukrainian documentarians shot film about life in occupied Kherson "Silent Terror. Chronicles of Hell".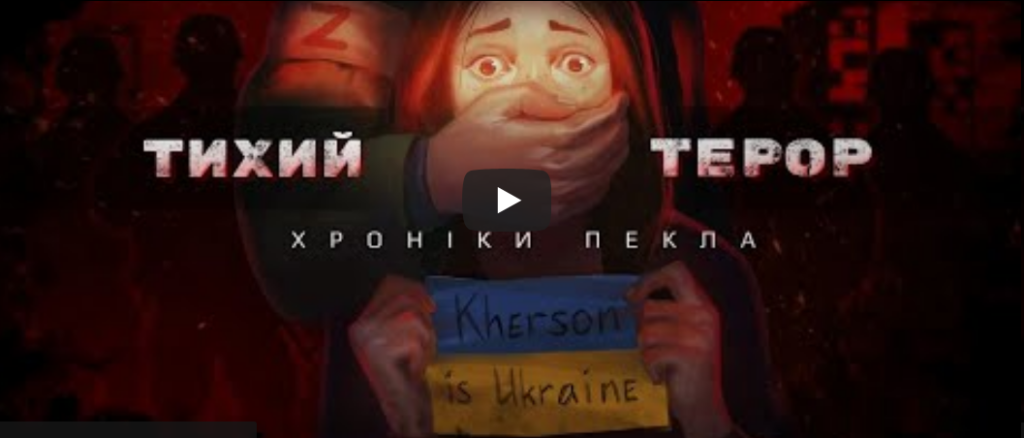 Several hundred residents of Kherson were held hostage by the Russian military. The occupying "power" abducts and tortures Kherson citizens, does not allow them to go to free territories.
The events of the film unfold from the beginning of the full-scale Russian invasion until the end of May. The tape contains documentary footage and stories of people who managed to leave the occupation. The heroes of the film are people from Kherson who survived kidnapping and torture, activists, volunteers, and journalists. Filming took place in Kyiv, Odesa and Mykolaiv.
The most difficult thing, the authors say, was to find people who would agree to testify on camera about what is happening in the occupied region.
"When the film was almost edited, the FSB broke into the family of the girl who agreed to be the main character of the film and filmed video diaries about life in an occupied village near Kherson. Somehow they found out about what she was doing. Fortunately, she was not injured, but we had to remove all the scenes with her participation from the film and urgently change the script in order not to expose her to danger. Such are the realities of life in Ukrainian cities occupied by Russia," said the film's director Elizaveta Tatarinova.
"Since the beginning of Russia's brutal assault on Ukraine, Russian forces have demonstrated a clear pattern of targeting and killing Ukrainian civilians en masse, while also deliberately shelling schools, maternity wards, hospitals, homes, apartment buildings, and other civilian infrastructure. They are also committing heinous acts of sexual violence and forcibly deporting hundreds of thousands of Ukrainian children to Russia," U.S. Senators Rob Portman said. "Combined with Russia's consistent denial of the existence of Ukrainian nationhood and identity, these acts must be acknowledged for what they are – genocide – and it is important that the United States and the rest of the world recognize them as such."